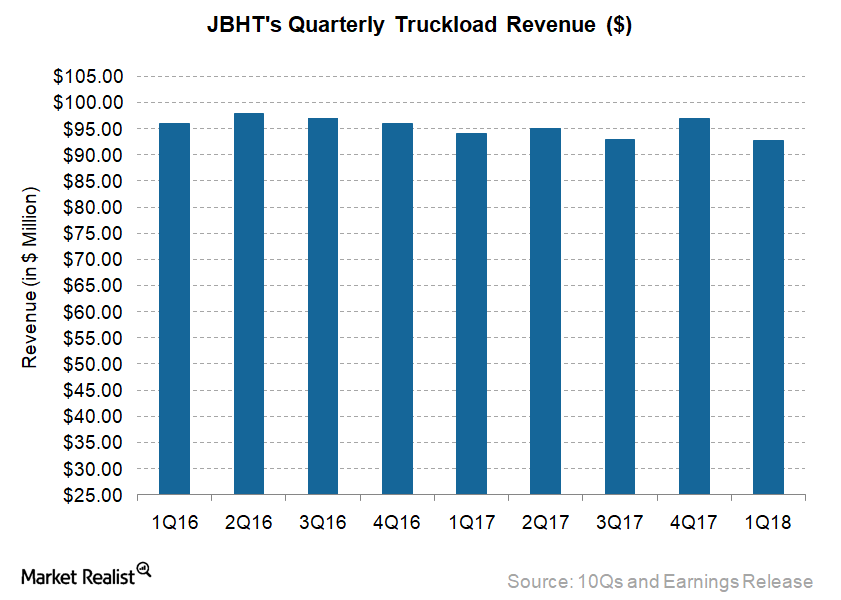 J.B. Hunt Transport's Truck Segment: Its Achilles's Heel
By Samuel Prince

Apr. 20 2018, Updated 9:01 a.m. ET
Truck segment: Revenue for 1Q18
The Truck segment is J.B. Hunt Transport Services' (JBHT) smallest segment by revenue. The share of its revenue fell to 5% in the first quarter of 2018 from 6% in 1Q17. In 1Q18, the segment recorded a 1% fall in revenue to $92.7 million from $94 million in 1Q17.
A quick look at the above graph shows the downward trend in the Truck segment's revenue. It shows the stiff competition the company is facing in the trucking market. The segment's revenue has remained range-bound in the last couple of quarters.
Article continues below advertisement
Why the Truck segment's revenue fell
Excluding the impact of a fuel surcharge, the Truck segment's revenue fell 3% in 1Q18, mainly due to a 15% decline in load count. The decline was partially compensated by a small rise in revenue per load.
Revenue per load, excluding the fuel surcharge, rose 14%, mainly due to a 10% rise in rates per loaded mile as well as a 3% increase in the length of haul in 1Q18 compared with 1Q17. At the end of 1Q18, the Truck segment operated 1,926 tractors compared to 2,144 in 1Q17.
LTL spot rates
In 2017, spot rates in the truckload (XTN) market rose less than the LTL (less than truckload) spot rates. The e-commerce boom has shifted some of the truckload carriers' freight to LTL carriers. Huge investments in the hub-and-spoke network and investments in technology have helped LTL carriers Old Dominion Freight Lines (ODFL), Saia (SAIA), and YRC Worldwide (YRCW) increase their top lines compared to pure-play truckload companies.
Next, we'll take a look at J.B. Hunt Transport's 1Q18 operating margins.