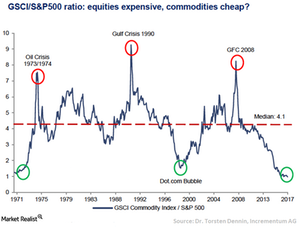 Is Now the Right Time to Invest in Commodities?
By VanEck

Updated
VanEck
There are expected, and possibly more aggressive, interest rate hikes over the next several years, and potential commodity supply constraints resulting from years of capital expenditure reductions in the metals and oil industries. Between these, we believe investors have more than enough reasons to reconsider their allocations to this space.
Article continues below advertisement
Market Realist
Supply constraints driving up commodities
Prices for commodities like gold, oil, copper, iron ore, cobalt, and lithium have been rising since mid-2017, mainly buoyed by higher demand due to widespread global growth. Though demand is certainly rising, many years of underinvestment have led to supply constraints in the sector that have provided a strong impetus to commodities.
China's (FXI)(MCHI) clampdown on polluting industries and new environmentally friendly regulations are restricting mining licenses and closing down many factories. The initiative could lead to higher production costs while curtailing the supply of Chinese minerals in the global market, creating huge opportunities for global commodity (DBC) players. China's supply-side curbs and years of weak investment in new mines globally put commodities in a sweet spot.
Allocation to commodities
If inflation is to rise further so that it becomes a major concern, investors may turn to commodities. As interest rates rise, stock markets should come under pressure due to a rise in borrowing costs for corporates and consumers. In such a situation, investors may look to diversify their asset class by shifting to commodities like gold (GLD) and oil (USO).
Another point favoring commodities is its attractive valuation relative to equities. As the chart above shows, the S&P GSCI Commodity Index relative to the S&P500 Index (SPY) is currently trading at a much lower level than its long-term median of 4.1 and also at the lowest level in 50 years.