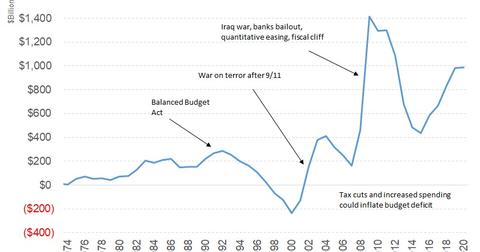 Is It Time for Fiscal Expansion?
By Ricky Cove

Updated
Lagging behind in building a fiscal policy buffer
During his keynote at the tenth conference organized by the International Research Forum on Monetary Policy in March 2018, Boston Federal Reserve president Eric Rosengren said that the United States has been lagging behind some European economies (VGK), which are building excess fiscal policy buffers by following austerity measures. Recently, the Trump administration has announced tax cuts for businesses and individuals and proposed increased spending, adding to the fiscal deficit. Total US debt has now surpassed $21 trillion and it is expected to increase further as the government deficit is likely to balloon in the months ahead.
Article continues below advertisement
A note on the US budget deficit
An economy records a budget deficit when its annual revenue generated is lower than its expenditure. In fiscal 2019, the US Congressional Budget Office expects the US budget deficit to be $985 billion, with revenue of $3.4 trillion and a budgeted expenditure of $4.4 trillion. Government spending is divided into mandatory and discretionary spending, where mandatory spending includes social security and Medicare, and discretionary spending includes military, health services, education, housing, and urban development. When tax revenue declines or expenditure increases more than expected, the US Treasury may be forced to borrow more by issuing short-term (SHY) and long-term (TLT) government bonds (GOVT).
US fiscal buffer could be inadequate
Government spending, which boosts economic growth, is usually increased during an economic slowdown. The Trump administration's plans come as the US economy is expanding, inflation (VTIP) is growing moderately, and unemployment is at its lowest in decades, leaving little chance for fiscal expansion when an economic shock hits the economy. To conclude his speech, Rosengren suggested that policymakers should carefully consider policy tools available in a holistic manner and increase buffers, as this is an opportune time to prepare for the next recession.