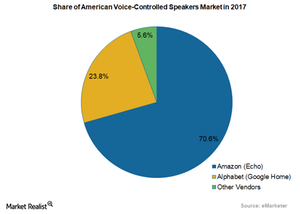 Is Apple's HomePod Market Losing Its Shine?
By Sophia Nicholson

Apr. 25 2018, Updated 9:02 a.m. ET
Apple's HomePod smart speakers
The February launch of Apple's (AAPL) HomePod smart speaker—one of this year's most highly anticipated devices—was originally scheduled for December 2017. Even before its launch, the company was able to garner one-third of the US market for smart speakers by booking preorders of Apple's Siri-powered HomePod speakers.
However, is the demand still there for smart speakers? Let's look into the details about Apple's HomePod speakers.
Article continues below advertisement
Low demand for Apple's smart speakers
According to industry sources, the demand for the Siri-powered HomePod speakers is not on par with its pre-order sales. Data from Slice Intelligence suggests that despite encouraging pre-order sales, Apple's smart speaker sales weren't robust in early March.
These reports stated that the sales of HomePod dropped to a 10.0% share after its pre-order sales. After three weeks, that share had dipped to just 4.0%. Declining demand and fewer sales have resulted in increased inventories of HomePod speakers, as noted to news sources by Apple Store workers.
According to the data gathered from Apple's supply chain, MacRumors stated that Apple is cutting its sales forecast for 2Q18 to 200,000 units per month, down from the original 500,000 units per month due to weak HomePod sales numbers.
Apple appears confident that its HomePod speakers can survive even with a 4.0% share in the smart speaker market. However, investors still foresee challenges surrounding Apple's HomePod, as it has a high price in relation to its features. According to industry reports, Apple's HomePod has limited functionality compared to Amazon's (AMZN) Alexa and Google's (GOOGL) Android Assistant. HomePods also lack support for Spotify's (SPOT) streaming music service.
Price tags of smart speakers
Apple's smart speakers hit the market at a time when Amazon and Google have already captured the home speaker market. Apple prices its HomePod speaker at $349, while Google Home retails at $129 in the US market. 
Amazon's Echo devices range from $49 to $229. Facebook (FB), which was expected to launch its smart speaker in May 2018 for a rumored price of ~$500, has delayed its launch of its smart speaker amid the Cambridge Analytica issue.