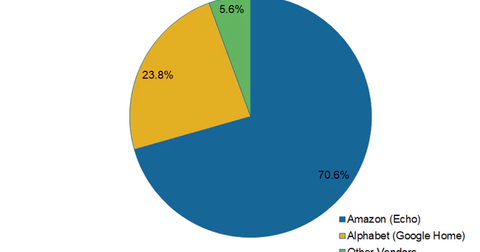 Is Apple Struggling in the HomePod and AR Verticals?
By Adam Rogers

Updated
HomePod shipment forecast reduced
According to a report from China Times, Apple (AAPL) cut orders for its HomePod in March 2018. The report has also revised shipment sale forecasts for the product from 500,000 units to 200,000 units. Apple's HomePod was originally available for sale in December 2017. This schedule was delayed, and the product was available for preorders starting in January 2018.
According to Slice Intelligence, Apple accounted for ~33.0% of the smart speaker market in January. Demand for the HomePod, however, started to decline significantly about a month after its preorders began. In the first ten weeks after the product sales began, HomePod accounted for 10.0% of the smart speaker market compared to 73.0% for Amazon (AMZN) and 14.0% for Google (GOOG)(GOOGL).
However, Apple could still be optimistic about growth in this space as the smart speaker market is estimated to grow at a CAGR (compound annual growth rate) of 34.3% over the next five years, as estimated by MarketsandMarkets.
Article continues below advertisement
Apple struggling to fight low-cost competitors in AR
Sensor Tower has estimated the total ARKit (augmented reality) application downloads to reach 13.0 million since it was launched in September 2017. This has meant 2.0 million downloads every month. Sensor Tower has been tracking only ARKit apps, which are AR software apps built using proprietary Apple framework. Games accounted for 47.0% of cumulative downloads.
However, KGI analyst Ming-Chi Kuo has stated that cheaper rivals such as Oppo have caught up with Apple and expects Chinese (FXI) manufacturers to start competing with Apple in AR by the end of 2018.
Kuo stated, "We believe Apple's biggest challenge in innovation in recent years has been in software, not hardware. In several cases we have seen Apple lagging in software versus hardware development, which bodes badly for its innovation strategy of software and hardware integration."