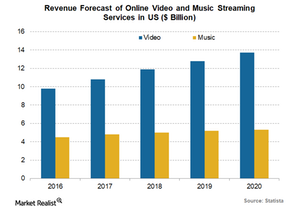 Is Apple Music Catching Up to Spotify?
By Sophia Nicholson

Apr. 11 2018, Updated 8:00 a.m. ET
Apple Music subscribers reach 40 million
Apple's (AAPL) music-streaming unit, Apple Music, passed the 40 million subscriber mark on April 4, 2018, according to a company tweet. The news came two weeks after Apple's senior vice president, Eddie Cue, said in an interview with CNN that Apple Music's subscriber base is at 38 million. The 2 million subscriber growth in two weeks is an indication that Apple Music's subscriber base is growing rapidly. The company had 36 million music subscribers in February 2018.
Article continues below advertisement
Growing online music streaming industry
Apple Music, launched in 2015, competes with Spotify, Pandora, Alphabet's (GOOGL) Google Play Music, Amazon's (AMZN) Amazon Music Unlimited, Tidal, Deezer, iHeart, and others. However, Apple's closest rival remains Spotify (SPOT), which went public on April 3 but launched its music service nine years ago.
Spotify was the first and the biggest streaming music service to charge subscription fees from consumers. Spotify currently has nearly 70 million paying members as compared to Apple Music's 40 million subscribers. According to Reuters, Amazon Music Unlimited has about 16 million paying subscribers, whereas Pandora Media has more than 5 million total subscribers.
Subscription-wise, Apple, Spotify, Google, and other services charge a subscription fee of $9.99 per month for music. However, Amazon offers its service to its Prime customers, who pay $7.99 per month and get benefits like shipping, video, and music content.
Facebook (FB) is also rumored to be entering the music streaming industry, as the social media company has recently inked deals with content providers like record companies for licensing. However, nothing has been confirmed yet.
Per Statista, the trend of online video and music streaming services in the US is expected to grow exponentially and drive revenues, as the chart above shows.