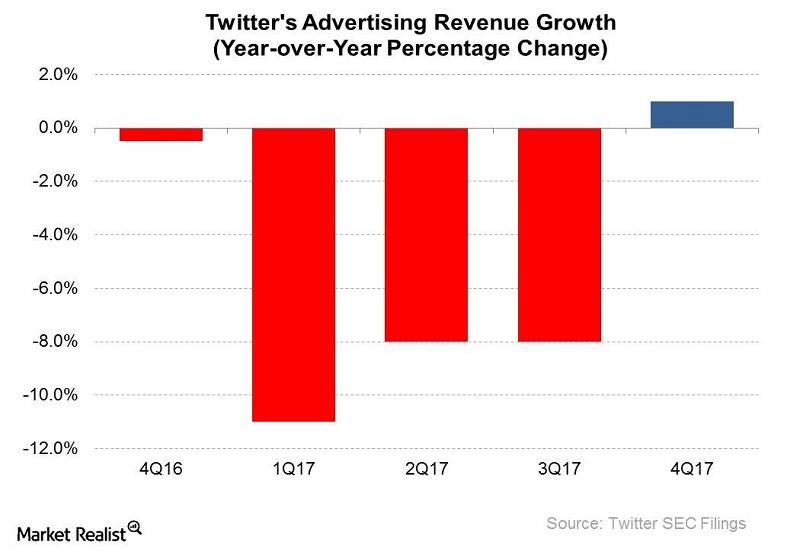 Influencer Marketing Trends Appear to Favor Twitter
By Neha Gupta

Apr. 18 2018, Updated 9:02 a.m. ET
Influencing marketing budgets on the rise
Twitter (TWTR) currently captures less than 2% of the US digital advertising budget, which eMarketer estimates at $83 billion last year. But the growing popularity of influencer marketing could work in favor of the company.
A recent study by WhoSay shows that 70% of US marketers expect influencer marketing budgets to increase in 2018. That's up from last year when 50% of US marketers expected influencer marketing budgets to go up.
Influencers are individuals who have a sway over a large group of potential buyers. Brands are increasingly turning to influencers to bolster their marketing efforts, particularly in appealing to young people on the Internet.
Article continues below advertisement
Brands can turn to Twitter for influencer talents
While brands are eager to leverage the influencer effect to boost their marketing efforts, finding the right influencer talent is challenging for most marketers. Here's where there appears to be an opportunity for Twitter. The company runs an influencer talent agency known as Niche.
Niche connects brands with social media influencers to help promote their products on the Internet. Twitter's influencer talent agency could help the company attract more digital advertising budgets, particularly from brands looking to leverage the power of influencer marketing.
Advertising revenue increased 1%
Twitter's advertising revenue increased 1% YoY (year-over-year) to $644 million in 4Q17. Advertising revenue increased 48% YoY for Facebook (FB) and 21.4% YoY for Google parent Alphabet (GOOGL) in 4Q17. Yelp's (YELP) advertising revenue increased 18% YoY, while Snap's (SNAP) advertising revenue increased 74% YoY in 4Q17.