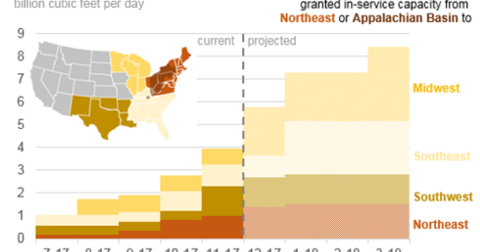 Increasing Appalachian Takeaway Capacity: What's the Latest?
By Keisha Bandz

Updated
Takeaway capacity in Appalachia
As we've discussed in this series, shale gas production in Appalachia has increased rapidly since 2012, which has created the need for new midstream infrastructure—including natural gas processing plants and pipelines.
Key projects last year
In November, seven pipeline projects were placed into service, including:
the Spectra Energy and Enbridge (ENB)–owned Algonquin Gas Transmission (Spectra and Enbridge merged in February 2017) 
TransCanada's (TRP) Rayne Express
the Access South project on ENB's Texas Eastern transmission (or TETCO),
the Connecticut expansion of the Tennessee Gas Pipeline (or TGP) owned by Kinder Morgan Energy Partners (KMP)
Also in November, the EIA reported that it expects additional capacity to come online between December 2017 and March 2018, more than half of which would connect Northeastern Appalachian production to the Midwest and Southeast markets.
The EIA expects 2.6 billion cubic feet per day (Bcf/d) of additional capacity connecting Northeast Appalachia to the Midwest and 1.4 Bcf/d of additional capacity connecting northeast to the Southeast.
Recent projects
A key project in Appalachia is Energy Transfer Partner's (ETP) Rover pipeline project, which has been in partial service in Ohio since August 31.
TransCanada's Leach Xpress is also a significantly large project, and it's expected to transport natural gas from the Appalachian production region to the Southeast. The pipeline was placed into service in January 2018.