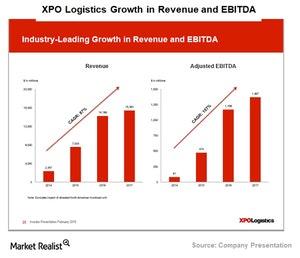 How XPO's Acquisition Strategy Has Worked for the Company
By Samuel Prince

Apr. 3 2018, Updated 11:44 p.m. ET
XPO Logistics acquisition strategy
XPO Logistics (XPO) has followed a path of growing organically as well as inorganically. It devised an acquisition strategy to increase profitability and stay competitive in the transportation (IYT) and logistics (CHRW) market. From 2013 to 2015, the company acquired four companies as a part of its global acquisition strategy. 
In 2013, XPO acquired National Logistics Management for $87.0 million, making XPO Logistics a leader in expedited shipments in the United States.
In 2014, the company acquired Pacer International for $335.0 million in a combination of cash and stock. This acquisition helped XPO scale up its intermodal transportation business, as Pacer International was the largest provider of intermodal transportation services between the US and Mexico.
In 2015, XPO acquired French logistics company Norbert Dentressangle for $3.5 billion.
XPO also acquired Conway, an LTL (less-than-truckload) operator in the US for $3.0 billion in 2015.
As the chart above indicates, as a result of these acquisitions and the company's organic growth, XPO's revenues have grown at a CAGR (compound annual growth rate) of 87.0% from 2014 to 2017. 
Article continues below advertisement
The company's adjusted EBITDA[1. earnings before interest, taxes, depreciation, and amortization] has also grown at an exponential CAGR of 157.0% in the same period. This metric indicates that the company's growth through its acquisitions strategy has worked out well for the company. XPO has not ruled out further acquisitions.
Now, let's look at the last two acquisitions in 2015 in greater detail and the synergies gained from these acquisitions.
Acquisition of Norbert Dentressangle
The acquisition of French logistics company Norbert Dentressangle in 2015 gave XPO a solid platform to grow its transportation (WERN) and logistics business in Europe. With this acquisition, XPO acquired access to blue-chip companies in Europe that provided XPO with cross-selling opportunities.
Conway acquisition
The acquisition of Conway resulted in XPO becoming the second-largest provider of less-than-truckload transportation (ODFL) services in North America. This acquisition also strengthened XPO's position in the fast-growing e-commerce sector with the company's e-fulfillment logistics platform in the US and Europe.