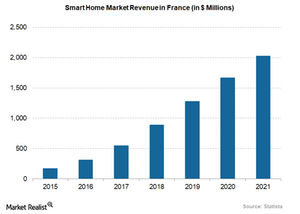 How Will Google's Ties with Fnac Darty Threaten Amazon's Alexa?
By Sophia Nicholson

Apr. 27 2018, Updated 9:02 a.m. ET
Google's partnership with Fnac Darty
Alphabet's (GOOGL) Google has expanded its partnership with Fnac Darty to promote Google-Assistant-powered products like Google Home smart speakers and smartphones. Fnac Darty is a French retailer and distributor of household appliances, electronics, and entertainment products. The retailer was also one of Google's top three partners for the launch of Google's products offered by Google Assistant.
Article continues below advertisement
Google's expansion in France
Last year Google launched Google Home smart speakers in France to expand its home automation market. With this latest move, all Fnac Darty customers will be able to explore Google products through the rollout of demo areas. Fnac Darty stores will have areas for demos of Google Assistant, which is a smart assistant for Google devices like smart speakers or smartphones. That way, customers can purchase products using voice commands via the Assistant app in their smartphones and pay through FNAC accounts.
Such a set up will not only strengthen Google's position but also help the tech giant to gain first mover advantage in the country where rival Amazon (AMZN) has yet to launch its voice-assistant Alexa. According to data obtained by Statista, revenues in the French smart-home market are expected to cross $2 billion in 2021.
Smart speaker market is booming
In the US market, Google dominates the home speaker market along with Amazon. Apple and Facebook (FB) are also struggling to compete with smart speakers. While Apple's HomePod is expected to launch in 2018, Facebook's Portal smart speakers have been postponed to July from its May 2018 launch due to the data crisis issue.
Further, according to Loup Ventures, Google Home is expected to take the lead in the global smart speaker market, followed by Amazon's Alexa and Apple's HomePod.