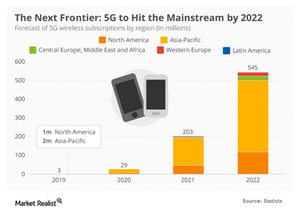 How Will AT&T's White Box Routers Support Its 5G Plan?
By Sophia Nicholson

Updated
AT&T deploys 60,000 white boxes
AT&T (T) is set to build new cell towers as it prepares to become the first telecom (telecommunications) company to offer mobile 5G (fifth generation) in the United States before the end of 2018. AT&T has completed its first live field trial with white box equipment on March 28, 2018, and plans to roll out 60,000 white box routers over the next several years across its entire wireless network in the United States.
AT&T will deploy these routers on its 5G-equipped towers and small cells to better address low-latency issues.
Article continues below advertisement
AT&T white box
AT&T white box routers will run on an open source operating system called dNOS (Disaggregated Network Operating System). The white box routers will be coordinated using ONAP (Open Network Automation Platform), an operating system for the network cloud that is vital in deploying and managing next-generation ultra-fast broadband speeds. It can also be used to control future nationwide mobile 5G networks.
Instead of the traditional routers, AT&T is rolling out new hardware with open source software that can be quickly upgraded, while keeping the costs low so it can focus on expanding its nationwide mobile 5G footprint. AT&T is confident that a virtualized, open-source, white box approach is the best way to evolve to 5G.
AT&T already virtualized 55% of its network in 2017 and expects to virtualize and software-control 65% of it by the end of 2018. The telecom company has a goal of 75% network virtualization by 2020.
Verizon (VZ) plans to roll out its 5G service in five cities by the end of 2018. Sprint (S) and T-Mobile (TMUS) have announced plans to start rolling out their 5G networks in 2019. T-Mobile, however, said that by 2020, the company will complete the global coverage of its 5G services. According to research by Statista, 5G wireless subscriptions are projected to reach 545 million by 2022.