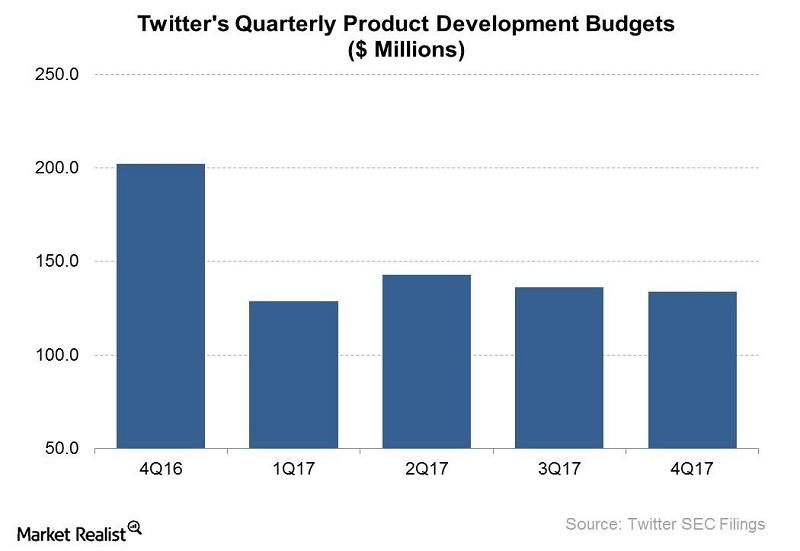 How Twitter's Spending Practice Is Shifting
Prioritizing growth in 2018
Twitter (TWTR) has indicated that it's shifting gears in its spending practice in 2018. Last year, it focused on suppressing costs by prioritizing profitability over growth. It achieved a profitability milestone, turning its first quarterly profit as a public company in 4Q17.
In 2017, Twitter focused on curbing spending to control costs for the sake of profits. It suggested that driving growth was going to take center stage in 2018, which would result in expenses increasing.
Article continues below advertisement
Marketing expense declined more than 27%
Twitter's marketing expenses have fallen 27.2% YoY to $189.6 million in 4Q17. Product development expenses fell 33.7% YoY.
At Facebook (FB), product development expenses increased 18.8% YoY in 4Q17. Google parent Alphabet (GOOGL) posted a 19.4% YoY increase in product development costs in the same period. Product development expenses rose 40% YoY at Amazon (AMZN) and 30.1% YoY at Yelp (YELP) in 4Q17.
Giving priority to product development in spending
While speaking last year at a technology conference hosted by Wall Street firm UBS, Twitter's chief financial officer Ned Segal hinted that the company would give priority to product development over marketing in budget allocations. Perhaps that's because besides investing in products that directly generate revenue, Twitter is also looking to create products that could help reduce abuse of its platform and services. Foreign agents are believed to have infiltrated social media platforms such as Twitter and Facebook with propaganda messaging aimed at American voters ahead of the 2016 presidential election.