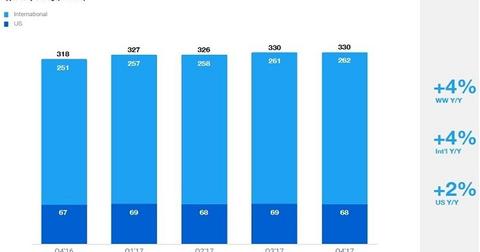 How Twitter Lite Is Impacting Its Uptake Overseas
By Neha Gupta

Updated
Twitter Lite saves data and energy
Toward the end of last year, Twitter (TWTR) launched Twitter Lite, the lightweight version of its app, in 24 countries, mostly in South America, Asia, and Africa.
Twitter Lite is optimized for low-cost smartphones and is designed to work efficiently on slow Internet connections. As well as being data-friendly, Twitter Lite is also less draining on batteries. People in the developing world not only face challenges of slow connections and expensive data prices but also electricity to recharge phone batteries, which is not available to everyone. So Twitter came up with its lightweight app to address challenges that might be keeping people in the developing world from coming to its platform.
Article continues below advertisement
International users increased 4%
In Twitter's upcoming 1Q18 financial report, international metrics will be interesting to many investors trying to understand the impact of the Twitter Lite app.
Most Twitter users are outside the United States. The company closed 4Q17 with 262 million international monthly active users (or MAUs) compared to 68 million MAUs in the United States. Twitter's international monthly audience increased 4% YoY (year-over-year) compared to a 2% YoY increase in the United States.
Twitter Lite is primarily aimed at international markets, particularly developing countries, where the problem of a slow Internet connection is more prevalent.
Optimizing apps for developing markets