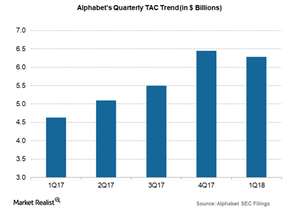 How Rising Expenses Have Increased Alphabet's Concerns
Expenses rose 32.8%
Alphabet's (GOOG) total costs and expenses increased 32.8% YoY (year-over-year) in 1Q18. Rising expenses in the quarter were driven by higher traffic acquisition costs (or TAC). Alphabet's TAC rose 35.8% in 1Q18, much higher than Alphabet's revenue growth of 26% YoY.
Rising costs and expenses in 1Q18 led to a decline in operating margins. Alphabet's operating expenses in 1Q18 rose 32.8% YoY to $24.1 billion. The company's operating profit margin fell to 22.5% in 1Q18 from 26.5% in 1Q17. The company expects to incur higher expenses toward the second half of the year to support the holiday season.
Article continues below advertisement
Rising TAC hurting margins in 1Q18
In 1Q18, Alphabet's TAC (traffic acquisition costs) increased 35.8% year-over-year (or YoY) to $6.3 billion. TAC to Google Network Members increased ~20% YoY, while TAC to distribution partners jumped 60.7% YoY in 1Q18. Nevertheless, the company also claimed a larger share of Google's advertising revenue. Alphabet spent 24% of Google's ad revenue on TAC in 1Q17, compared to 22% in 1Q17.
Higher TAC means Google is paying more to its partners for direct use of its search engine. Google's partners include smartphone manufacturers that use Google as the default search engine on their devices. Google competes with Microsoft (MSFT), Yahoo, and China's (FXI)(MCHI) Baidu (BIDU) for internet search engine share.
Advertising rate fell 18%
Google's advertising rate, or CPC (cost per click)—which is the amount marketers pay to advertise on Google properties—fell 18% YoY in 1Q18. Since advertising contributes most of Alphabet's revenues, declining ad rates are a serious concern for investors.