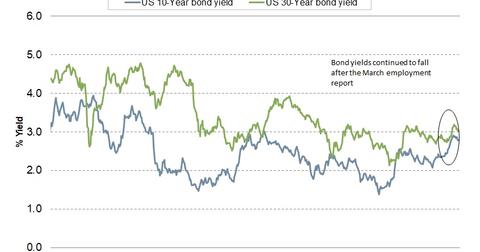 How Recent Economic Data Affected Bond Markets
By Ricky Cove

Updated
Trade war concerns outweigh economic data
In the recent weeks, the performance of the US bond markets (BND) has been influenced by trade conflicts between the US and other nations, primarily China (FXI), rather than the underlying economic performance. Though the economic data for March and February have been mostly in line with expectations and paint a positive outlook for the economy, bond yields have failed to rally, as investors were concerned about the escalating trade tensions in the global markets. First, there were the steel and aluminum import tariffs, which were followed by $50 billion worth of tariffs on Chinese imports. The tensions were escalated further when China retaliated with tariffs of $30 billion on US imports and the US threatened another $100 billion worth of tariffs. The fear of a full-blown trade war reduced risk appetite and increased demand for safe-haven assets like bonds, which further pushed yields lower.
Article continues below advertisement
Bond yields fail to breach February highs
The US ten-year bond (IEF) yield reached a peak of 2.95% after stellar wage growth in February, as investors anticipated that the US Fed would increase rates sooner than expected. This view has since changed, as risk appetite waned, resulting in the ten-year yield (GOVT) falling to 2.74% at the end of March. Even a rate hike from the US FOMC at its March meeting and a hawkish post-meeting statement failed to drive yields higher, as investor focus remained on trade tensions.
The outlook for the bond markets
No one is really sure what the outcome of the current trade tensions could be. If all the major economies involved manage to reach an amicable solution, we can expect the current expansionary cycle to continue. There has not been a lot of damage, but the fear of future damage is driving markets. If these trade threats diminish, we can expect bond (TLT) yields to rebound, and the ten-year yield could breach the critical 3% mark in the near future.