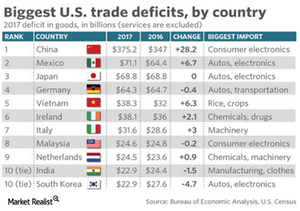 How Possible Trade War with China Could Impact US Semiconductors
US semiconductor industry's dependence on China
So far in this series, we have seen that Donald Trump wants to reduce the $375 billion trade deficit with China (MCHI) by imposing tariffs and penalties on a wide range of Chinese imports. This trade deficit is because the US imports more Chinese goods compared to what China imports from the US.
China primarily imports semiconductors from the US. According to the International Trade Administration, the US produced 47% of the global semiconductor output in 2016. According to PricewaterhouseCoopers, China consumed 58.5% of global semiconductors in 2016, as it is the global hub for manufacturing PCs (personal computers), smartphones, and other electronics. All these electronics use semiconductors.
Article continues below advertisement
As China doesn't have the necessary IP (intellectual property) to manufacture semiconductors in the nation, it depends on exports for more than 80% of its semiconductor needs. China also invited many foreign companies to manufacture chips in the nation, which prompted companies like Intel (INTC) and Samsung (SSNLF) to build memory plants in China.
China trade war concerns could impact semiconductor industry
The open trade environment between the US and China fueled growth in the semiconductor industry. However, recent concerns around the trade war with China raised fear among investors and caused a major sell-off in semiconductor stocks, especially those with high exposure in China like Qualcomm (QCOM), NVIDIA (NVDA), and Micron Technology (MU).
Trump aims to reduce the trade deficit with China by $100 billion. There are two ways to reduce the deficit. Either the US reduces its imports from China by making them expensive through tariffs or China increases its imports from the US. China opted for the latter method and proposed to import more semiconductors from the US.
Given that global semiconductor revenues reached $400 billion in 2017, China's proposal to increase semiconductor imports from the US appears positive. However, a deeper analysis of this proposal reveals problems. We'll look at this issue in the next article.