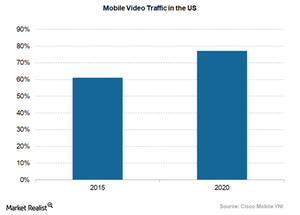 How Netflix Views Competition in the Streaming Space
Netflix is the content king
In 1Q18, Netflix's (NFLX) subscriber base reached 125.0 million, up from ~98.8 million subscribers in 1Q17. However, due to the increasing demand for online viewing, some companies have gained influence in the online video streaming market.
Article continues below advertisement
Rivals investing in original content 
Netflix is still the streaming content king, as it plans to invest billions in original content in 2018. The company expects to spend around $7.5 billion–$8.0 billion in content in 2018, as it streams more original programming on its platform. Netflix is making new TV series and movies at a rapid pace and expects to release 80 original movies in 2018, as it announced in October 2017.
In 2017, Netflix's investments totaled ~$6.0 billion on original content, including nearly 30 new original shows. In 2016, these investments totaled $5.0 billion. Among Netflix's rivals, Amazon (AMZN) spent $4.5 billion on original and acquired content, and Hulu invested $2.5 billion on content in 2017.
Four companies have control over online video service Hulu. Fox, Comcast (CMCSA), and Disney each have a 30.0% stake in Hulu. Time Warner (TWX) is the fourth owner and controls a 10.0% stake in Hulu.
Investment in original television services
Investment in online television services could be more appealing to viewers who are moving away from pay-TV subscriptions. According to a Cisco Systems VNI (visual networking index) report, video content could account for 77.0% of all mobile data traffic by 2020 in the United States.
Viewers can pay $100 or more for cable or satellite TV services per month. However, a basic plan for Netflix or Hulu cost only ~$8 per month each. Sony's PlayStation Vue can be accessed for $50 per month, Alphabet's (GOOGL) YouTube TV is ~$40 per month, and a basic Sling TV package is available for $20 per month. An Amazon Prime subscription is about $99 per year.