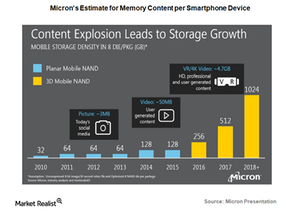 How Micron's 3D NAND Solutions Can Enhance Flagship Smartphones
By Sophia Nicholson

Apr. 11 2018, Updated 8:21 a.m. ET
Micron's mobile 3D NAND solutions
Micron Technology (MU) recently announced the availability of three 64-layered, second-generation 3D NAND (negative-AND) mobile storage solutions. These storage solutions have three capacities—64GB, 128GB, and 256GB—for smartphones.
Article continues below advertisement
AI in smartphones
These new storage solutions are expected to support the high-speed Universal Flash Storage (or UFS) 2.1 standard. These solutions are expected to be based on Micron's triple-level cell (or TLC) 3D NAND technology, which increases the speed by 50.0% compared with the previous version of the TLC 3D NAND product.
There has been rising demand for efficient data storage in next-generation smartphones owing to the accelerated use of AI-related applications, virtual reality, facial recognition, and multimedia sharing tools. As smartphone usage also encompasses photography and multimedia sharing, the increase in storage up to 256GB in flagship phones makes sense.
At the recent Morgan Stanley Technology, Media & Telecom Conference, Micron Technology's chief business officer, Sumit Sadana, stated that DRAM content in mid-range and high-end smartphones had increased from 2GB (gigabytes) and 4GB to 6GB in some flagship phones. The NAND content per device is also growing as phones require more space to store high-resolution images and videos. New flagship phones have a minimum of 64GB of flash memory.
Article continues below advertisement
Micron Technology projects that storage capacity could grow to a terabyte by 2021. According to a Gartner forecast, "[B]y 2022, 80 percent of smartphones shipped will have on-device AI capabilities, up from 10 percent in 2017. On-device AI is currently limited to premium devices and provides better data protection and power management than full cloud-based AI, since data is processed and stored locally."
Other players working in memory and storage solutions
Like Micron Technology, Western Digital (WDC) has announced the launch of the industry's first 64-layer 3D NAND-based SSDs in May 2017. In June 2017, Intel (INTC) launched the SSD 545s, which was built on 64-layer 3D NAND flash memory.
Intel and Micron recently combined to develop the third-generation of 3D NAND technology, which is expected to be launched by late 2018 or early 2019.