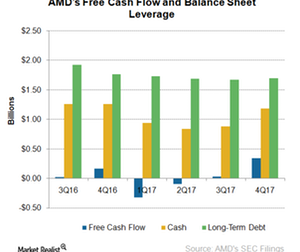 How Is AMD Balancing Its Cash and Debt Positions?
By Puja Tayal

Updated
FCF priorities
In the previous article, we learned that Advanced Micro Devices (AMD) is transferring most of its FCF (free cash flow)—that is, its operating cash flow after deducting capital expenditure—to its cash reserve. The company uses this cash reserve to invest in future growth opportunities and repay debt.
AMD doesn't use its FCF to pay dividends or buy back shares. Its cash flows are mostly negative, because of which it struggles to make ends meet.
Article continues below advertisement
AMD earned $339 million in FCF in 4Q17, of which it spent $33 million to repurchase the principal amount of its long-term debt and put the remaining $306 million in its cash reserve. This move shows that the company's key priority is not to repay debt but to invest in future growth opportunities while servicing its debt.
NVIDIA (NVDA) and Intel (INTC) are similar. NVIDIA has maintained its long-term debt at $2.0 billion and is using its FCF to give returns to shareholders and build its cash reserves, which it can use to invest in long-term growth opportunities. Even Intel's FCF priority is to invest in its business.
AMD's short-term financial flexibility 
AMD's current assets of $2.6 billion are sufficient to meet its current liabilities of $1.5 billion, as its current ratio is 1.76x. This ratio shows that AMD has the short-term financial flexibility to perform daily operations with ease—even during seasonal weakness.
However, things aren't so smooth when considering AMD's long-term financial flexibility.
AMD's cash-debt balance
At the end of 2017, AMD's cash reserves stood at $1.2 billion, and its total principal debt stood at $1.6 billion, resulting in net debt of $445 million. The company's cash reserves aren't sufficient to meet its long-term debt obligations.
AMD's debt also exceeds its shareholders' equity of $611 million, indicating that its debt levels are alarmingly high and that it doesn't have the financial flexibility to make long-term investments and withstand cyclical downturns.
In such a scenario, a company's financial health is determined by looking at its ability to service its debt. We'll look at AMD's debt-servicing capability in the next article.