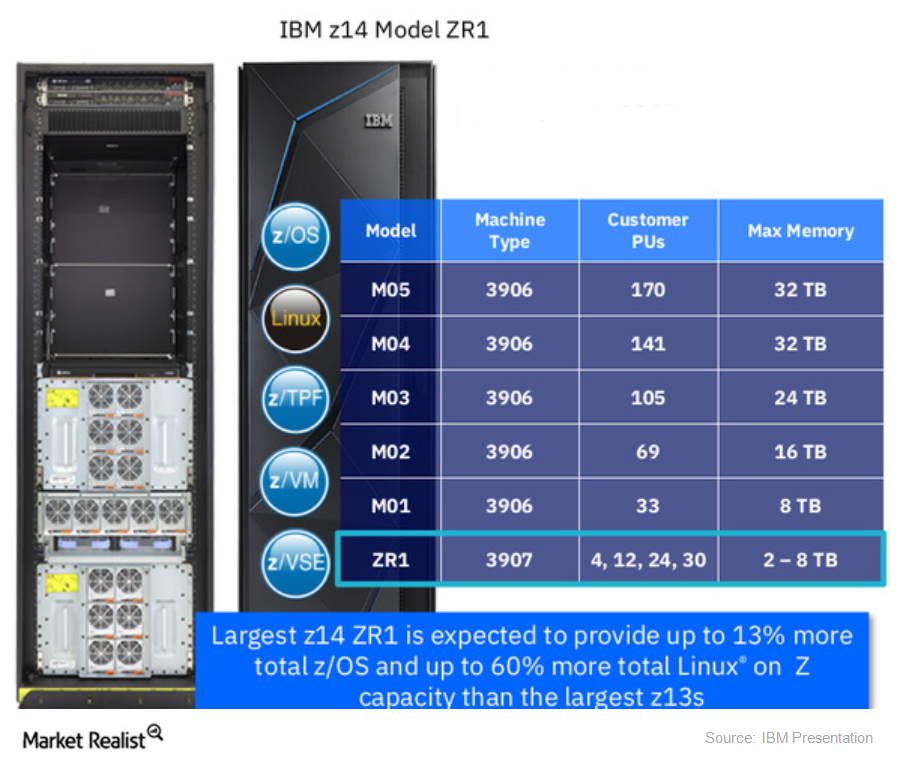 How IBM Intends to Move Its Hardware into Cloud Data Centers
By Anne Shields

Apr. 19 2018, Updated 7:31 a.m. ET
IBM's z14 model ZR1
Earlier in this series, we discussed the role and impact of IBM (IBM) on the DJIA Index. On April 10, 2018, IBM launched the z14 Model ZR1, which is a 19-inch cloud-ready system designed to fit into any standard cloud data center or private cloud environment. 
IBM's standard mainframe is in a 24-inch architecture. This launch marks a shift from the conventional pieces of hardware that were difficult to fit anywhere and yet cost hundreds of thousands of dollars. IBM's next-generation z system, the z14, was introduced in July 2017. Its predecessor, the z13 mainframe, was last updated in 2015.
According to IBM, the new z14 offers 8 terabytes of memory, which is twice that of the z13 mainframe and has 10.0% more capacity than the z13. It can manage more than 850.0 million fully encrypted transactions on a daily basis.
Article continues below advertisement
IBM's mainframe usage in corporate infrastructure
According to Gemalto's Breach Level Index, approximately 10.0 billion records have been breached since 2013. Of these records, only 4.0% of the stolen data was encrypted, which would make it useless to hackers.
IBM's z14 makes use of encrypted API (application programming interfaces), which seeks to address cyberattacks that have compromised financial data. The recent surge in sophisticated cybersecurity attacks such as the Equifax data breach, WannaCry, and Petya ransomware motivated companies to invest in improving their threat-detection technology to be better equipped for future cyberattacks.
According to IBM, 87.0% of overall credit card transactions and ~$8.0 trillion in payments per year are handled by mainframes. The platform manages 29.0 billion ATM transactions each year, or nearly $5.0 billion per day. Mainframes also process ~4.0 billion passenger flights each year.