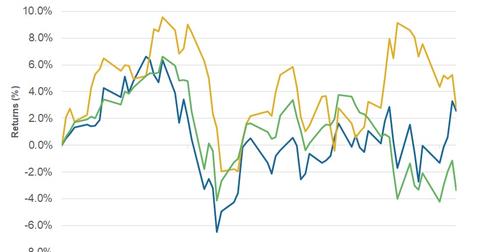 How Has Valero Stock Performed ahead of Its 1Q18 Earnings?
By Maitali Ramkumar

Updated
Valero stock performance
Since January 2, 2018, Valero Energy (VLO) stock has risen 2.6%. Its peers have shown a mixed trend in the same period. Let's look at what led the rise in Valero stock.
In February, Valero posted its 4Q17 earnings. VLO posted a robust set of numbers. Its 4Q17 earnings also exceeded Wall Street analysts' consensus estimate, which we discussed in Part One of this series.
However, the refining environment has been weak this quarter. Inventories have risen, and refining margin indicators have contracted. The EIA (U.S. Energy Information Administration) reported a rise in gasoline inventories in 1Q18. Gasoline inventories rose 2.0% in the week that ended on March 30, 2018, compared to the week that ended on December 29, 2017.
Valero has seen a fall in refining crack indicators quarter-over-quarter in three of its four regions in 1Q18. VLO posts these indicators periodically. A fall in indicators means weaker refining margins for VLO in 1Q18 over 4Q17. We've discussed this in the previous article.
Plus, RIN (Renewable Identification Numbers) costs are expected to continue to dent VLO's earnings in 1Q18. However, RIN prices have fallen in 1Q18 compared to 4Q17. This fall could result in lower RIN expenses for VLO in 1Q18.
Article continues below advertisement
In short…
Overall, Valero stock has risen marginally in 1Q18 likely due to better-than-expected 4Q17 earnings and lower quarter-over-quarter RIN prices. This rise has been partly offset by a rise in gasoline inventories in the industry and narrower quarter-over-quarter refining margin indicators.
VLO's peer Marathon Petroleum (MPC) has risen 7.8% since January 2. Plus, WTI (West Texas Intermediate), the broader energy environment indicator, has risen 2.8% since January 2. 
Andeavor (ANDV) and Phillips 66 (PSX) have fallen 6.9% and 4.7%, respectively, in the same period. Also, the SPDR S&P 500 ETF (SPY) has fallen 3.4% since January 2. Thus, with its 2.6% rise, Valero stock has outperformed SPY.
In the next article, we'll evaluate VLO's pre-earnings moving averages.