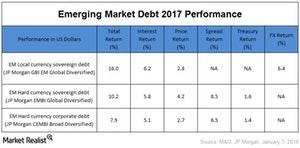 How Emerging Market Bonds' Real Yield Helps Curb Inflation Risk
VanEck
Real yields are nominal yields adjusted for inflation, which is often one of the greatest contributors to the nominal yield levels of emerging markets local currency bonds. These higher nominal yields provide compensation for the risk posed by local inflation, which can be associated with negative currency returns. Controlled inflation can provide support to local currencies, and when combined with relatively high nominal yields (therefore resulting in positive real yields), fixed income assets may be particularly attractive.
Article continues below advertisement
From a policy perspective, positive real yields provide central banks the ability to ease monetary policy to spur growth, a policy tool that is not currently available in most developed markets. Overall, positive real yields can, therefore, be a better indication of fundamental value versus nominal yields.
Relative to developed markets, emerging markets local rates appear attractive in both nominal and real terms, despite rising real yields in the United States. As of March 31, 2018, the weighted average 10-year yield on the J.P. Morgan GBI-EM Global Diversified Index was 6.26%, versus the 10-year U.S. Treasury yield of 2.74%. In real terms, EM was yielding 2.85% above inflation, which was 2.26% more than U.S. Treasuries and 3.60% more than the G-4 (U.S., United Kingdom, Japan, and Eurozone) average, which actually remains well into negative territory.
Market Realist
How do real yields protect against inflation?
In 2017, in the emerging fixed-income space (EMAG)(IGEM), EM (emerging market) local-currency debt (EMLC) has offered higher returns than other debt instruments. Most emerging-market currencies performed better last year. EM local currency bonds hold an advantage, giving investors exposure to currency appreciation and providing higher positive real yields. Positive real yields are crucial to combat the effect of inflation on your investment. The negative real yield on investment implies that the nominal yield on the investment is equal to or lower than the inflation rate. Inflation reduces the real value of the investment. So it's vital to focus on the positive real yield of an investment.
The chart below shows that, in 2017, EM local-currency sovereign bonds returned 16%, compared to 10.2% returns from EM hard-currency sovereign debt and ~8% from EM hard-currency corporate debt.
The J.P. Morgan EMBI Global Core Index (EMB) serves as a benchmark index for emerging market bonds. To get exposure to emerging market bonds, investors can consider the J.P. Morgan GBI-EM Global Diversified Index for local-currency sovereign bonds, the J.P. Morgan EMBI Global Diversified Index for hard-currency sovereign bonds, and the J.P. Morgan CEMBI Broad Diversified Index for hard-currency corporate bonds.
Emerging market bonds also factor in exchange rate risks and solvency risks. Also, positive real yields support emerging markets' central banks easing monetary policy during economic downturns.
EM bonds' performance rose in 2017, led by an uptick in commodity prices and the disinflation rate in most EM countries. Despite rising US interest rates, the yields offered by emerging market debt instruments are higher than their counterparts'.
That being said, like every investment, emerging market debt instruments also are susceptible to credit and currency risks.