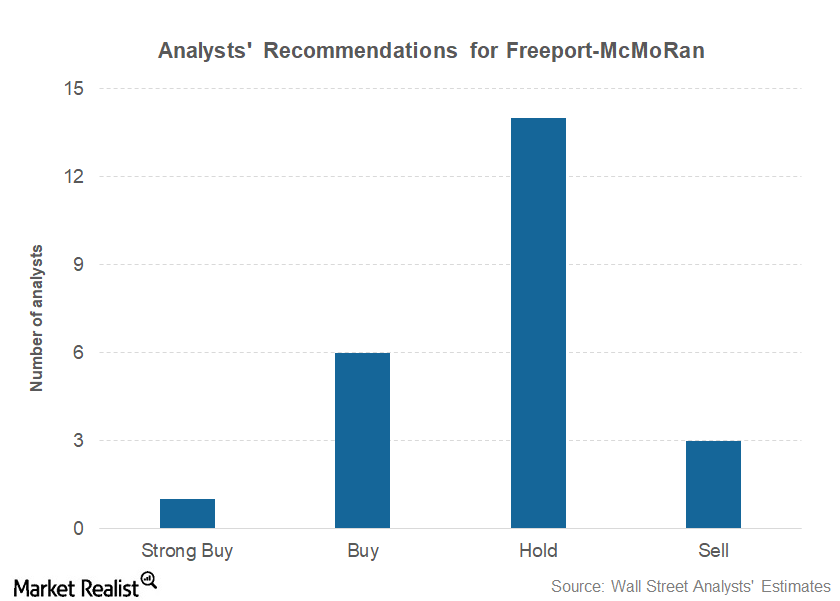 How Are Analysts Rating Freeport amid Trade War Fears?
Analysts on Freeport
As we learned previously, copper prices have come under pressure this year. Among other factors, the concerns over escalating frictions between the United States and China have contributed to copper's downfall.
In this article, we'll see how analysts are rating Freeport-McMoRan (FCX) as trade war fears take center stage.
Article continues below advertisement
Price target
Freeport has received a "strong buy" rating from one analyst, while six analysts have given it "buy" ratings. Fourteen analysts have "hold" or equivalent ratings on Freeport, and the remaining three polled by Thomson Reuters on March 27, 2018, have rated the stock as a "sell."
Freeport carries a mean consensus price target of $20.46, which represents an 18.6% upside over its March 27 closing price. Southern Copper (SCCO) and Antofagasta (ANTO) are trading 13.7% and 1.2% above their respective consensus price targets.
Some analysts have raised Freeport's target price this month. On March 6, UBS raised the stock's target price from $14 to $18.5. On March 12, RBC also raised Freeport's price target from $17 to $22.
Near-term drivers
The resolution of the impasse at the Grasberg mine, where Rio Tinto (RIO) is Freeport's partner, could be a near-term driver for Freeport. Though Freeport announced a resolution framework last year, raising hopes that an end to the long-standing impasse was near, a final agreement between Freeport and the Indonesian government has been elusive thus far.
However, according to Reuters, citing Indonesian energy minister Ignasius Jonan, "President Joko Widodo has instructed his administration to complete negotiations over the purchase of a majority stake in Freeport-McMoRan Inc's local unit by the end of April."
In the next article, we'll see how analysts are rating Glencore (GLNCY).