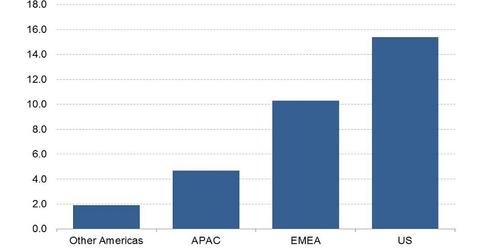 How a US-China Trade War Could Affect Alphabet
By Neha Gupta

Updated
China trade restrictions have so far spared the technology sector
Google parent Alphabet (GOOGL) is set to release its 1Q18 results just as the United States and China appear to be drifting toward a potentially costly trade war. In March, Donald Trump signed measures targeting China with numerous trade restrictions, targeting steel and aluminum imports. It didn't take long before China retaliated with restrictions of its own, targeting US businesses that look to China for a market for their products.
Article continues below advertisement
Google has interest in China
There have been concerns that Alphabet, with its sprawling enterprise, could be caught up in the US-China trade dispute, potentially hampering growth in the conglomerate's key constituents. Google, Alphabet's largest and most profitable unit, has investment interests in China. However, most of Google's key operations are banned in the country—it does not offer its Internet search engine service in China. Instead, China has a homegrown Internet search provider, Baidu (BIDU). Google's Internet search service is a crucial piece of its advertising business, which contributes more than 80% of Alphabet's overall revenue. Facebook's (FB) and Twitter's (TWTR) key operations are also banned in China.
Impact from trade war likely to be limited
China's blocking of Google's and Facebook's services could provide cover for these companies if the US-China trade war escalates. If a trade dispute flares and China decides to target US technology companies with trade restrictions, analysts say the financial impact of such retaliation would be small for companies such as Google, CNBC reports. However, this impact be heavier for technology companies that have a larger exposure to China, such as Apple and Intel (INTC).
How does Google view the potential impact of a US-China trade war on its business? Alphabet's leadership may address this issue in its upcoming earnings call. Alphabet's APAC (Asia-Pacific) revenue grew 30% YoY (year-over-year) to $4.7 billion in 4Q17, while its EMEA (Europe, the Middle East, and Africa) revenue grew 24% YoY.