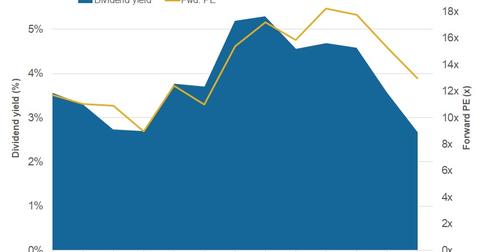 HollyFrontier in the Middle for Dividend Yields and Valuation
By Maitali Ramkumar

Apr. 4 2018, Published 11:09 a.m. ET
HFC's dividend yield
In the previous part of this series, we looked at Phillips 66 (PSX), which is third on our list of dividend yields. Now, let's look at HollyFrontier's (HFC) dividend yields.
HollyFrontier is about in the middle, or fourth, on our ranking of seven dividend-yielding refining stocks. HFC is an American refining company with refining, midstream, and PCLI (Petro-Canada Lubricants) segments. The company's market cap (capitalization) of around $9 billion ranks fifth among our seven stocks in this series.
Article continues below advertisement
HFC has a current dividend yield of 2.7%. In 1Q18, it made a dividend payment of $0.33 per share. The dividend was announced on February 14, 2018, and paid on March 14, 2018. HFC has paid dividends consistently in the past three years. Its dividend payments have risen in that period. Three years ago, it made a dividend payment of $0.32 per share on March 24, 2015. Dividend payments for Valero Energy (VLO) and Phillips 66 (PSX) have also risen in the past three years.
Valuations
HFC currently trades at a forward PE (price-to-earnings) ratio of 12.9x, which has risen from 11.7x in 1Q15. Its current forward PE ratio is above the average forward PE ratio of 12.8x for our seven refining stocks in this series. That could be due to HFC's growth activities. It recently acquired Petro Canada, expanding its footprint in the specialty chemicals segment. In its lubricants segment, HFC is now fully integrated from base oil production to finished lubricants. Its lubricants segment products are currently sold in more than 80 countries worldwide.
HFC's MLP, Holly Energy Partners (HEP), is also expanding through dropdowns and acquisitions. HFC has capex (capital expenditure) programs to enhance feedstock flexibility, yield higher value products, support growth, and have better logistics capabilities. It intends to integrate the downstream supply chain to generate optimum value.
In the next part of this series, we'll look at Marathon Petroleum (MPC), which is fifth in terms of dividend yield on our list of seven stocks.