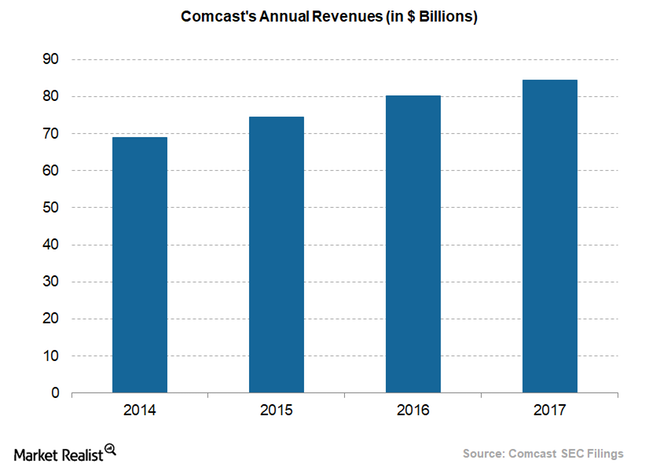 Here's What Netflix-Comcast Deal Means to the Media Sector
By Sanmit Amin

Apr. 19 2018, Updated 11:17 a.m. ET
Comcast and Netflix have announced a bundled subscription
The popularity of streaming services like Netflix (NFLX) has made life difficult for traditional cable TV providers like Comcast (CMCSA) with customers increasingly preferring cheaper streaming services to cable TV subscriptions.
However, Comcast and its nemesis Netflix announced on Friday, April 13, that Comcast will start bundling Netflix's streaming services into its cable subscriptions in order to boost dwindling subscriber growth. Comcast didn't mention the price of the bundled subscription, but it is likely to be cheaper compared to buying the two subscriptions separately.
Article continues below advertisement
Bundled SVOD subscriptions are rapidly becoming a norm
The deal means that subscribers can pay both Netflix's and Comcast's service under one bill. As we mentioned in the previous part of this series, streaming service providers are increasingly offering discounted bundled services with other providers to increase subscribers.
This move is the first time Netflix will bundle its subscription with that of a US cable provider, as it hopes to attract more American subscribers as the US market matures. The deal, along with the possibility of other such SVOD-cable TV service integration means that traditional TV might not be dead after all. Netflix announced plans for a similar deal with Sky in March 2017. The streaming service provider also bundles its service with T-Mobile (TMUS) in the US.
This is not the first time Netflix and Comcast have struck a deal. In 2016, the two companies partnered to make Netflix's streaming service available on Comcast's X1 set-top boxes.