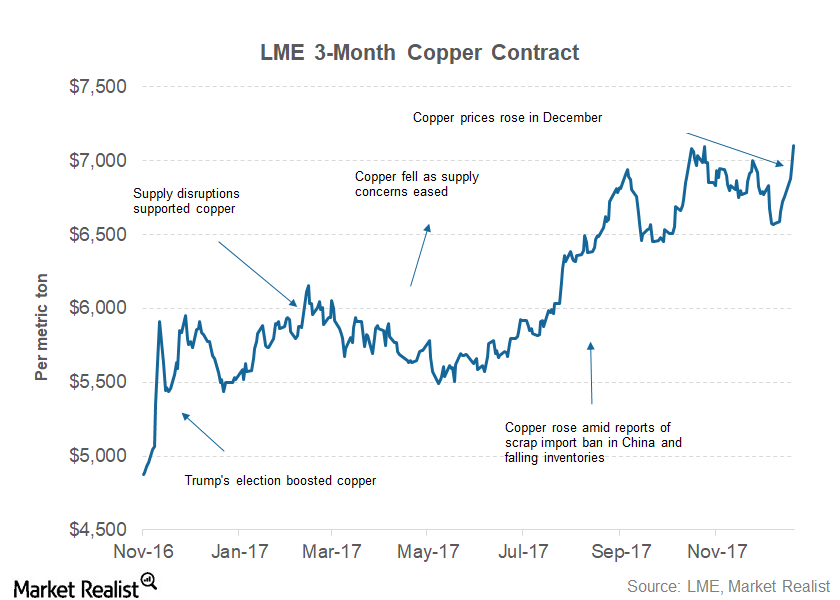 Has Copper's Bullish Thesis Been Threatened?
Supply disruptions
As we discussed earlier, copper rose sharply in December 2017. Among other factors, a wave of labor negotiations has lent support to copper's bullish thesis. Notably, labor contracts at several leading copper mines, including BHP Billiton–operated (BHP) Escondida, are coming up for negotiation this year.
Richard Adkerson, Freeport-McMoRan's (FCX) CEO, said during the company's 4Q17 earnings call, "This year there are a lot of labor contracts in Chile and Peru coming up and you can expect those negotiations to be challenging and it could be supported from a supply standpoint. So, Codelco has a real challenge in maintaining production. All these things are challenges for the industry but they're supportive of supply."
Article continues below advertisement
Bulls disappointed
We're now nearing the end of 1Q18, and there hasn't been any news of a major supply disruption resulting from labor action. Previously, there were reports that unionized workers at Antofagasta's (ANTO) Los Pelambres copper mine in Chile had voted for a strike. However, the union reached an agreement with the company to avoid it.
There was a labor action at First Quantum Minerals' (FM) Cobre Panama mine earlier this month. The mine is currently in its development phase. However, FM said in a release that "following the resolution of the industrial action at Cobre Panama, it is now conducting the necessary preparations to allow the return of workers to the affected areas of the site."
What next?
While it wouldn't be prudent to comment on how the remaining labor contracts may progress throughout the course of the year, the copper bulls may be disappointed in the smoothness of the negotiations in labor talks so far. A sudden surge in copper inventory has also put pressure on copper (SCCO). We'll discuss this in detail in the next article.