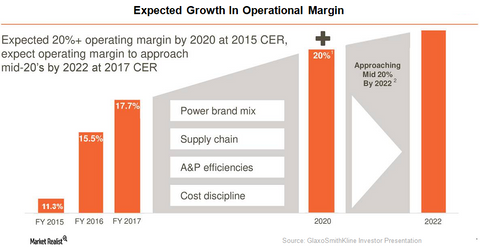 GSK's Acquisition of Novartis' Consumer Healthcare Joint Venture
By Kenneth Smith

Updated
Agreement with Novartis
On March 28, 2018, GlaxoSmithKline (GSK) entered into an agreement with Novartis (NVS) to acquire full ownership of their consumer healthcare joint venture. Under the agreement, GSK would buy out Novartis' 36.5% stake in the consumer healthcare joint venture for $13.0 billion. This transaction is expected to be accretive to GSK's adjusted earnings in 2018 and beyond, and it's expected to bolster the company's cash flow generation capacity.
Article continues below advertisement
Consumer healthcare business
In fiscal 2017, this consumer healthcare unit has generated $11.0 billion in sales. Since 2015, the unit's sales have risen 4.0%. Its operating margins have improved from 11.3% in fiscal 2015 to 17.7% in fiscal 2017. By 2022, its operating margins are expected to reach percentages in the mid-20s.
Under the original joint venture transaction, Novartis had the right to require GSK to purchase its stake or its specified tranches in the venture. With the acquisition of Novartis' stake, this uncertainty due to the put option was lifted and allowed GSK to optimize its capital allocation.
Transaction funding
To support the funding of this acquisition, GSK is initiating a review of its Horlicks and other consumer healthcare nutrition products. GSK plans to drive a higher focus on over-the-counter and oral health categories. The total sales of these products reached ~$770.0 million in fiscal 2017.
A major portion of sales from Horlicks and other nutrition products comes from India. The Horlicks portfolio contains premium nutrition products. These products are sold by GlaxoSmithKline Consumer Healthcare Limited in India, a company listed on the National Stock Exchange (or NSE). This strategic review includes an assessment of GSK's 72.5% stake in the company. 
GSK expects the strategic review to conclude by the end of fiscal 2018. In the final part of this series, we'll take a look at Emergent BioSolutions' acquisition of raxibacumab.