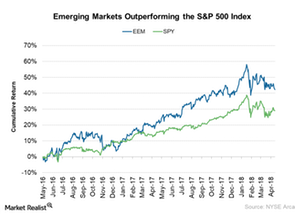 Goldman Sachs: Investors, Emerging Market Debt, and Equities
By Sarah Sands

Apr. 25 2018, Updated 9:13 p.m. ET
Goldman Sachs on emerging markets
Sheila Patel, CEO of Goldman Sachs Asset Management's International division, noted during a recent CNBC interview that a global stock market meltdown isn't imminent. As the risk of a global trade war is rising, investors are looking toward active management of their portfolios.
Patel stated, "We've seen clients both very active in EM debt and equities. In the latter, they're focused on, and we're focused on, more domestically-orientated stories and small and mid-cap (businesses). For example most of the Indian trade has been about Indian equities that are exposed to the growth in the domestic economy."
The recovery in the major emerging markets was driven by the various structural reforms taken by each country, some stabilization in the major economies' political environments, and improvement in fundamental factors.
As of April 23, the iShares MSCI Emerging Markets ETF (EEM) has risen 17.2% in the past year. The Vanguard Emerging Markets Stock Index ETF (VWO) has risen 13.6% during the same period.
Article continues below advertisement
Trade tensions
With trade tensions rising, investors are focusing their attention on companies that garner most of their revenues from the domestic economy. These businesses are expected to flourish during a trade war. On the other hand, the tension in US–China trade relations could affect the equity and debt markets in the US (SPY) and China.
Other emerging nations, which mainly focus on their domestic markets, may not be impacted by these developments. Although debt from emerging markets could result in lower credit ratings, some investors are attracted to these instruments.
For another view of market trends, please read Why Morgan Stanley Believes the Bull Market Will End Soon.