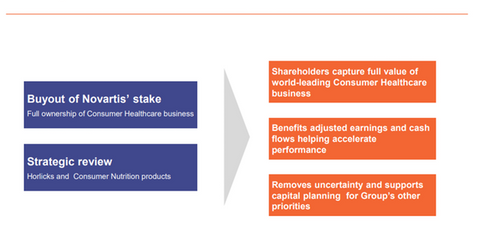 GlaxoSmithKline Buys Novartis's Stake in Joint Venture
By Sarah Collins

Updated
Overview
On March 27, 2018, GlaxoSmithKline (GSK) announced an agreement with Novartis (NVS) to buy Novartis's stake in their consumer healthcare joint venture. That would result in GlaxoSmithKline having full ownership of the business. GlaxoSmithKline will pay $13 billion for Novartis's 36.5% stake.
GSK recently showed interest in Pfizer's (PFE) consumer healthcare business, which is up for sale. However, in late March, GSK withdrew its acquisition interest. The plan to wholly acquire the GSK-Novartis joint venture seems to be one of the reasons behind ending the talks with Pfizer.
For funding the transaction, GlaxoSmithKline is undertaking the strategic review of Horlicks and its other consumer nutrition products business, which had combined 2017 sales of 550 million pounds.
Article continues below advertisement
Deal rationale
The consumer healthcare joint venture between GlaxoSmithKline and Novartis was approved in 2014. Under the terms of the agreement, Novartis requires GlaxoSmithKline to buy Novartis's stake in the joint venture, exercisable from March 2, 2018, to March 2, 2035. According to GlaxoSmithKline, the put option creates inherent uncertainty for the company's capital planning process. Thus, the company decided to buy out Novartis's stake in the joint venture and eliminate the uncertainty.
According to Vas Narasimhan, Novartis's CEO, "While our consumer healthcare joint venture with GSK is progressing well, the time is right for Novartis to divest a non-core asset at an attractive price." Soon after, on April 9, Novartis announced the acquisition of AveXis to advance its position in gene therapy and neuroscience. For details, read Novartis Enters Agreement to Acquire AveXis.
According to GlaxoSmithKline, "With category-leading Power Brands, increased focus on science-based innovation and improved operational efficiencies, GSK Consumer Healthcare is well positioned to deliver sales growth, operating margin improvements and attractive returns. The business expects operating margins to approach 'mid-20's' percentages by 2022 at 2017 CER."
The company expects the transaction to be adjusted earnings accretive in 2018 and forward. The deal is also expected to result in stronger cash flows for GSK going forward.
Be sure to check out all the data we've added to our quote pages. Now you can get a valuation snapshot, earnings and revenue estimates, and historical data, as well as dividend information. Take a look!