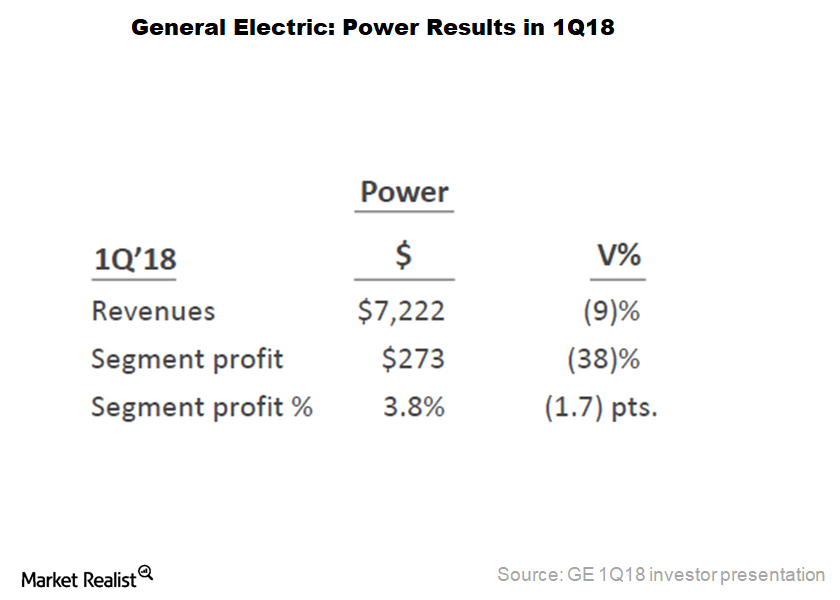 GE: Behind the 1Q18 Underperformance of Its Power Segment
By Samuel Prince

Apr. 26 2018, Updated 9:02 a.m. ET
GE's Power segment in 1Q18
General Electric's (GE) Power segment accounted for 26.4% of its Industrial (XLI) segment's revenues in 1Q18. In 1Q17, its Power (NEE) unit's share in of the Industrial segment's total revenues totaled 31.5%. Equipment revenues declined 16.0% to $3.5 billion due to lower volumes of gas turbines, aero-derivative units, and heat recovery steam generators. Service revenues dropped 2.0% to reach $3.7 billion in 1Q18.
The unit's operating income declined 38.0% to $273.0 million in 2018. Its operating margin fell 170 basis points to 3.7% in 1Q18.
Article continues below advertisement
Power unit's orders in 1Q18
In 1Q18, GE's Power (DUK) segment's orders stood at $5.6 billion, down 29.0%. Its financials reveal that equipment orders slumped 40.0%, and its services orders fell 19.0%. In its equipment unit, gas power systems orders declined 52.0% due to soft demand for gas turbines, aero derivatives, and steam units. Orders for its steam power system fell 80.0% due to two large orders in India in 1Q17, which were absent in 1Q18.
Services orders slid 19.0% overall in 1Q18. Excluding its orders related to the water business, these orders were down 12.0%. GE's contractual services orders slumped 14.0% in the quarter. This decline was primarily due to lower AGPs (Advanced Gas Path) and fewer replacement parts. 
Transactional orders fell 20.0% on reduced AGPs and outages. There were four orders for AGP in 1Q18, down from 20 in 1Q17.
Management's outlook for 1Q18
At the start of 2018, General Electric (GE) estimated demand of 30–35 GW (gigawatts) in the Power sector. However, the company expects the market for power based on demand, trending below 30 GW for 2018. The total cost cuts in the Power (SO) segment could touch $1.0 billion in 2018, of which $350.0 million were realized in 1Q18. GE is repositioning its service business and fixing execution issues in the Power segment.
With the launch of the GE Reservoir, the company is expected to strengthen its position in its Power business. GE may become a game changer for storing energy. The Reservoir can store 4 megawatt-hours of energy in a 20-foot box. In addition, it helps extend battery life by up to 15.0%.
This platform also enables diverse applications such as managing higher levels of renewable power, peak demand management, grid stabilization, and controlling energy flow. Better asset utilization through the GE Reservoir is expected to open new revenue sources and cost savings for utilities.
Next, we'll examine GE's Oil and Gas segment's results in 1Q18.