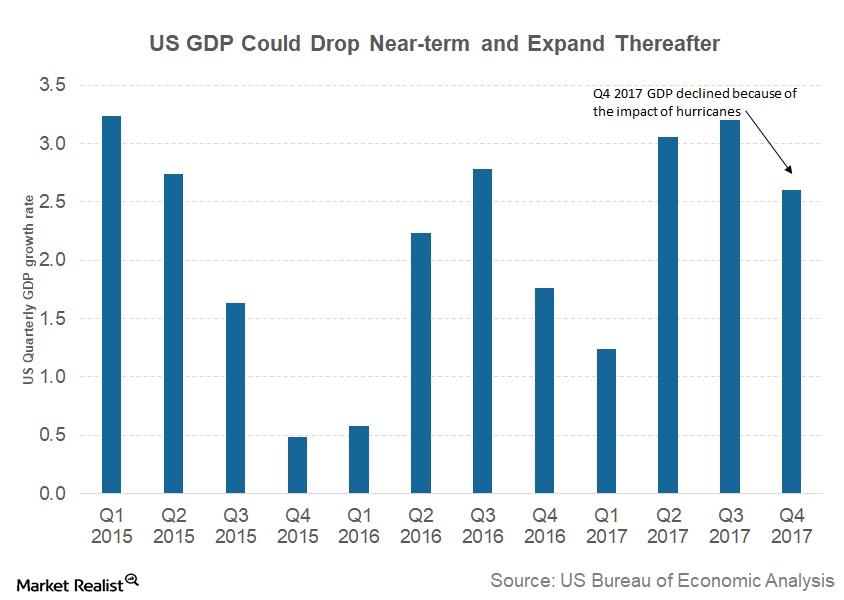 FOMC on the Economic Situation: A Strong US Economy
By Ricky Cove

Apr. 13 2018, Updated 9:07 a.m. ET
Economic expansion 
In FOMC meeting minutes, a staff review of the economic situation is presented to the FOMC members. In the March meeting minutes, the FOMC staff review of the economy was stronger than the review presented at the January meeting. The short-term real GDP growth expectation was revised lower due to softness in recent economic data. The medium and long-term projections for economic growth were revised higher due to the expected positive impact of the recent federal budget and tax cuts. US unemployment is expected to remain below the longer-run natural rate. US unemployment is expected to decline in the next few years.
Article continues below advertisement
Inflation expectations
According to the FOMC staff report, inflation (TIP) for the medium term has been revised higher due to tightening resource utilization. The headline consumer price inflation grew 2.1% in the 12 months ending in March. Core inflation (VTIP), which excludes consumer food and energy prices, has increased 2.1%—the largest 12-month increase since February 2017. At the March meeting, the FOMC members stated that the recent readings on inflation (SCHP) expectations increased their confidence that inflation could reach the 2% target in the coming months and stabilize at that level.
FOMC members' observations about tariffs
Several participants at the meeting were concerned about the possible ramifications of the tariffs on steel (SLX) and aluminum imports. Although the impact of steel and aluminum imports could be limited, members were concerned about other countries' retaliatory measures. They felt that the agricultural (DBA) sector could be the most vulnerable to any retaliation. The trade war escalation happened after the FOMC meeting. The trade war will likely impact FOMC members' decision in their next meeting in May.
Next, we'll discuss FOMC members' view on the US economy's financial conditions.