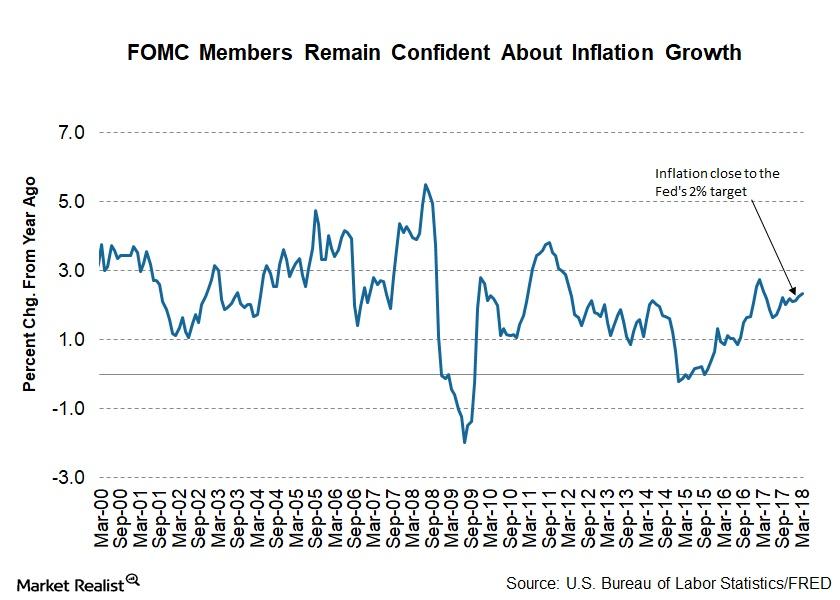 FOMC Members Are More Confident about Inflation
By Ricky Cove

Apr. 13 2018, Updated 9:07 a.m. ET
Committee more confident about inflation
The March FOMC meeting minutes indicated that the staff and FOMC members turned bullish on inflation. According to the minutes, all of the FOMC members expected the 12-month inflation (TIP) to increase in the coming months. The FOMC staff review indicated that PCE (personal consumption expenditures) inflation remained below the 2% target. Measures of long-run inflation (VTIP) expectations remained unchanged. The FOMC staff expected inflation to reach the 2% target in 2019. A stable growth rate for prices is one of the Fed's policy objectives. The Fed set a target of 2% PCE inflation growth for stable economic progress.
Article continues below advertisement
Expectations for inflation growth
FOMC staff viewed the risks to the inflation outlook as balanced. The upside risk to the inflation outlook was that the economy could overshoot its potential. The downside risk is that the long-term inflation (SCHP) would have edged lower and could remain at lower levels. FOMC members felt that the recent economic indicators related to inflation continued to improve. FOMC members remain confident that inflation could reach the 2% target in the coming months.
The outcome of increased inflation expectations
The FOMC's economic outlook on inflation, if realized, could lead to a higher rate of inflation in the near to medium term. In recent months, the financial markets have been focused on trade tensions, which pushed the issue of higher rates onto the back burner. Once the disturbances surrounding the trade wars are settled, markets will likely focus on economic data and interest rate (AGG) hike possibilities again. Overall, FOMC members' outlook is optimistic. FOMC members see some downside risk from trade wars. If the "Art of the Deal" works in the US's favor, we can expect another bout of a risk-on rally in equities and a continued decline in the bond (BND) markets.