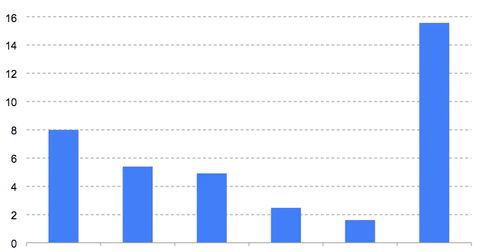 Fitbit Rapidly Losing Market Share in the Wearables Market
By Adam Rogers

Updated
Fitbit slips to 2nd position in wearables market
At the end of 4Q17, Fitbit (FIT) slipped to second position in the worldwide wearables market (WEAR), according to IDC (International Data Corporation). Fitbit's share was 14.2% in 4Q17, down from 18.5% in 4Q16 after unit shipments fell 17.3% YoY (year-over-year) to 5.4 million in the quarter that ended in December 2017. While Fitbit saw a significant fall in shipments, Apple and Huawei saw a rise of 57.5% and 93.2%, respectively.
The wearables market is led by Apple with a 21% share. Other major players include Xiaomi, Garmin (GRMN), and China's (FXI) Huawei with market shares of 13%, 6.5%, and 4.3%, respectively.
Article continues below advertisement
Fitbit sold 15.4 million devices in 2017
Although Fitbit sold 15.4 million devices in 2017, it was a 31% YoY decline compared to 22.5 million devices in 2016. At the end of 2017, Fitbit's share fell to 13.3% from 21.5% in the wearables market.
According to IDC, "Fitbit continued its transformation in 4Q17 with broader distribution and promotion of its Ionic smartwatch and continued application development for its Fitbit OS platform. At the same time, the company took multiple steps to deepen its reach in healthcare, including partnerships with Dexcom and United Healthcare and participation in the FDA's precertification program and the National Institutes of Health's Precision Medicine Research Program."
Apple increased its market share from 10.8% in 2016 to 15.3% in 2017 and claimed the top position in the market. Fitbit saw shipments decline despite a healthy growth in the overall wearables market. Wearable shipments rose 7.7% in 4Q17 and 10.3% in 2017.