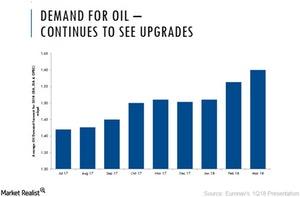 Euronav: Recycling Is Encouraging for the Tanker Industry
Euronav's outlook
In this part, we'll discuss what Euronav (EURN) said about the crude tanker industry in its 1Q18 conference call. The outlook will help us assess the future for Euronav and other crude tanker companies including Teekay Tankers (TNK), Tsakos Energy Navigation (TNP), DHT Holdings (DHT), Frontline (FRO), Navios Maritime Midstream Partners (NAP), and Nordic American Tankers (NAT).
Article continues below advertisement
CEO's take
In Euronav's 1Q18 results, CEO Paddy Rogers, said, "oil demand has been consistently upgraded over the past six months which along with increased levels of recycling (21 VLCC YTD) are encouraging developments for all tanker operators. However, the rebalancing of the tanker market requires further affirmative action in reducing primarily older tonnage, restraint from contracting and a supportive oil price structure. Freight rates will remain under pressure until this process of rebalancing is much further advanced."
Crude tanker market
Euronav talked about headwinds and constructive drivers for the crude tanker market. Some of the points the company mentioned are as follows:
Freight rates were under pressure in the first quarter due to vessel oversupply and restricted supply from OPEC's extended export cuts and new vessels entering the fleet.
YTD (year-to-date), 21 VLCCs have been removed from the global fleet. Vessel recycling has been strong, which is positive for the crude tanker market.
The global fleet has absorbed eight new VLCCs YTD and 20–30 VLCCs since 2Q17. Floating storage doesn't make sense in this oil price scenario.
The vessel supply and heavy orderbook (49 VLCCs due for delivery before the end of 2018) provide a challenging headwind for crude tanker operators.
Asset prices for newbuilds and scrap have been increasing since 3Q17. US crude oil exports have remained strong at 1.5 barrels per day in 1Q18. New infrastructure plans were announced during the first quarter to maintain and grow the new trading route. Crude oil's demand consensus growth rate was upgraded at 1.6 million barrels per day.