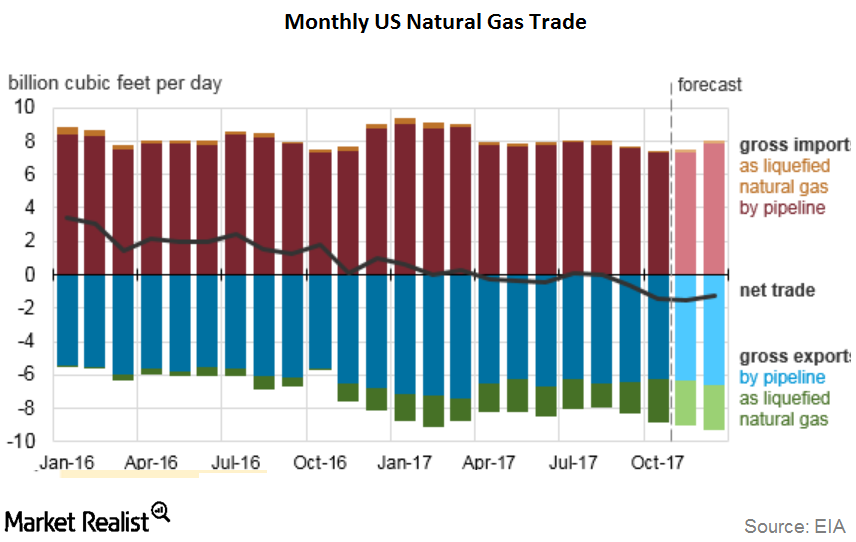 EIA Forecasts: US Natural Gas and Liquefied Natural Gas Exports
US natural gas exports
As a result of substantial natural gas resources and a significant increase in natural gas production, the US Energy Information Administration (EIA) expects an increase in US natural gas exports.
The EIA expects the United States to become a net exporter of natural gas in 2017 for the first time since 1957. According to an EIA report on January 2018, the United States is currently exporting more natural gas to Mexico and more LNG (liquefied natural gas) to at least 20 countries while importing less natural gas by pipeline from Canada.
The report said US net pipeline imports from Canada declined in 2017, partly because of the start of partial service of the Rover pipeline (see the previous part of this series).
Article continues below advertisement
US LNG exports
As a result of continued expansion in liquefaction capacity, US LNG exports averaged 1.9 Bcf/d[1. Billion cubic feet per day.] in 2017, 1.4 Bcf/d higher than in 2016.
The EIA expects the United States to have the third-largest LNG export capacity of 9.6 Bcf/d in the world after Australia and Qatar by the end of 2019. Currently, there are four operational liquefaction trains in the United States at Cheniere Energy's (LNG)(CQP) Sabine Pass LNG terminal in Louisiana, and a fifth train is expected to come online in 2019.
Four more projects are still under construction and expected to come online in the next three years, increasing total US liquefaction capacity from 1.4 Bcf/d at the end of 2016 to 9.5 Bcf/d by the end of 2019.
Upcoming projects include Dominion Energy's (D) Cove Point liquefaction terminal, which came online in early 2018, and Kinder Morgan's (KMI) Elba Island LNG, which is expected to come online by early 2019.