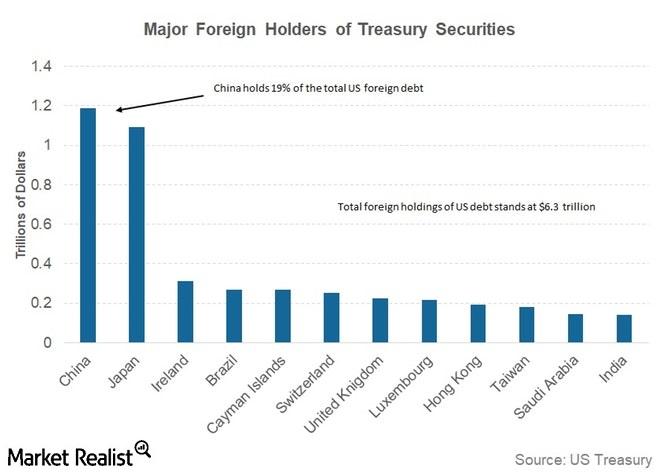 Donald Trump or Xi Jinping: Whose Ammunition Will Run Out First?
By Mohit Oberoi, CFA

Dec. 4 2020, Updated 10:53 a.m. ET
Ammunition
The trade war between the United States and China has shown no signs of abating. In a tit-for-tat move, China imposed tariffs on $3 billion worth of imports from the United States that included products like aluminum scrap. The tariffs were in retaliation to US duties on Chinese steel and aluminum exports. Broader markets have seen selling pressure as investors assess how a trade war between the world's two largest economies could impact global economic activity. Among the broader market ETFs, the SPDR S&P 500 ETF (SPY) has lost 0.45% so far in 2018. Along with the weakness in tech names like Facebook (FB) and Amazon (AMZN), trade war fears have spooked markets.
Article continues below advertisement
Tit for tat
After President Trump talked about a tariff of 25% of Chinese goods totaling almost $50 billion, China also prepared a list of products of the same value. The list included several products including farm produce and Boeing aircraft. Now, President Trump has asked officials to consider tariffs of $100 billion worth of Chinese goods.
Now, the question is will there be a similar retaliation from China? On the face of it, China does not have ammunition left to impose tariffs on $100 billion worth of goods from the United States. The country's exports to the United States were a mere $130 billion last year. Does that mean China does not have other ways to retaliate against President Trump's proposed tariffs?
Several US enterprises have subsidiaries in China. In the automotive sector, China is a bigger market for General Motors now as compared to the United States. Companies like Apple (AAPL) and Ford also have significant operations in China. Tesla (TSLA) was also looking at setting up a factory in China. Electric vehicle sales have been growing at a fast pace in China led by a government push. However, it remains to be seen how China retaliates against US companies operating in China.
China's vast holdings of US debt could also be another bow in its arsenal in a full-blown trade war with the United States.