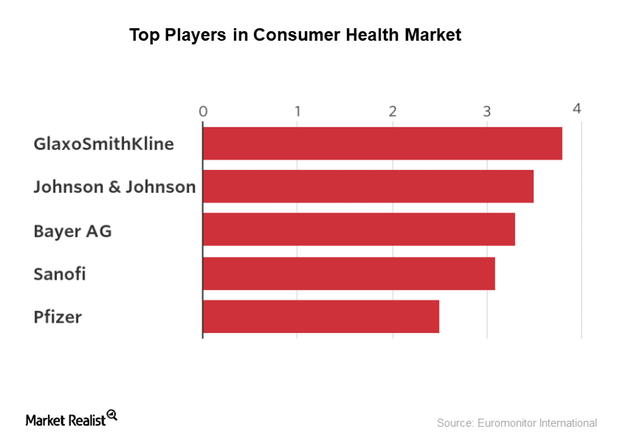 Could Pfizer and P&G agree on a Consumer Health Business Deal?
By Sarah Collins

Dec. 4 2020, Updated 10:53 a.m. ET
Overview
Pfizer (PFE) has been looking to sell its consumer health business since October 2017. The business unit includes Pfizer's OTC (over-the-counter) products, such as Advil and Centrum. Pfizer is looking to sell the business amid pressure from online retailer competition and market pricing.
Article continues below advertisement
P&G interested in Pfizer's consumer health business
GlaxoSmithKline (GSK) and Reckitt Benckiser (RBGPF) once showed interest in Pfizer's business but backed out in late March 2018. The day GlaxoSmithKline announced the news, its stock rose ~3.5%. GlaxoSmithKline instead bought the remaining stake in its consumer health business joint venture with Novartis. For details on the deal, read GSK's Acquisition of Novartis' Consumer Healthcare Joint Venture. Johnson & Johnson (JNJ) was also one of the contenders until January 2018, when it withdrew its interest.
Procter & Gamble (PG), or P&G, is the only company currently interested in Pfizer's consumer health business, and talks between the two companies are in progress. However, Pfizer is expecting more than $20 billion for its consumer health business, whereas P&G is keen on a price point of $15 billion. Since the two companies are far apart on the pricing front, the market is speculating that the deal might not materialize.
According to Pfizer, it might consider a spin-off if the sale doesn't go through and no other potential buyers crop up. Pfizer may also consider not selling its consumer health business at this time as it has no immediate need for capital.
Analysts' views
According to Morgan Stanley, the global consumer health market has slowed down from a like-to-like sales growth rate of 4%–6% to 0%–3% over the recent fiscal year. Online players such as Amazon (AMZN) and private players are presenting stiff competition to major OTC (over-the-counter) players. As reported by FiercePharma, UBS analyst Michael Leuchten told Bloomberg that "the world has changed. That means these businesses or assets probably won't be able to fetch the multiples they have in the past."
Check out all the data we have added to our quote pages. Now you can get a valuation snapshot, earnings and revenue estimates, and historical data as well as dividend info. Take a look!