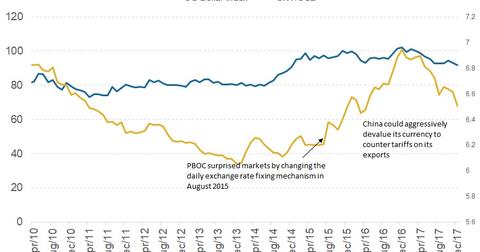 Could China Devalue Its Currency to Counter Tariffs?
By Ricky Cove

Updated
A strong possibility if tariffs breach US imports
In its arsenal to counter Trump's aggressive tariffs, China could resort to the devaluation of its currency (CYB) against the US dollar (UUP) as one of its possibilities. Devaluing its currency (CNY) would partially offset the impact of tariffs, as US consumers would be paying less in US dollars to buy Chinese imports. However, currency devaluation could impact other nations that import from China. This measure has its merits and demerits, as China would risk international backlash for manipulating its currency.
Article continues below advertisement
The recent history of China's currency devaluation
In the recent past, China surprised markets by devaluing its currency by nearly 2% against the US dollar (USDU). The People's Bank of China's (or PBOC) usual practice is to set a daily midpoint for the Chinese currency within a 2% band. In August 2015, the Chinese central bank announced that the daily fixing would be based on the previous day's close, which resulted in a 1.9% depreciation of the yuan in a single day. The repercussions of this move were widespread with markets in the US (VOO) and across the globe declining on that day.
Will China devalue its currency?
In 2015, the PBOC claimed that the move to devalue the yuan was to allow market forces to determine the exchange rate. This move was then welcomed by the International Monetary Fund (or IMF) and resulted in the inclusion of the Chinese currency (MCHI) in the IMF's special drawing rights (or SDR) basket of reserve currencies.
This time though, if China chooses to devalue its currency, it would be to counter US tariffs. It seems likely that President Trump would react if China were to choose this route. In the next part of this series, we'll examine how China could rattle the US bond (BND) and international markets using another economic weapon.