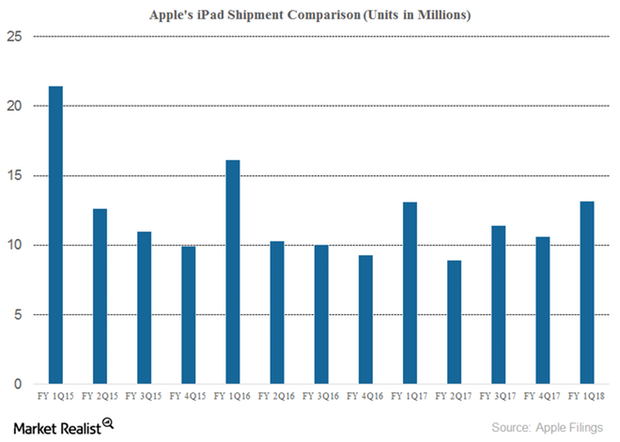 Could Apple's Shipments to Schools Improve Sagging iPad Sales?
Apple unveiled a new version of iPad for schools
Apple (AAPL) unveiled a new version of its iPad tablet at its education event in Chicago on Tuesday, March 27. The tablet is aimed at students and teachers and will come with new software. The iPad will cost $299 for the education market and $399 in other markets.
Apple also announced a system that will enable students to share the devices. The system will allow students to log into any iPad and have access to their own documents and apps. According to Futuresource Consulting, Google's (GOOG) Chromebook represented nearly 60% of mobile devices sold to US K-12 schools in 4Q17 compared to Apple's 19.3%. The Google Chromebook is a cheaper option compared to the Apple's iPad.
Article continues below advertisement
Apple's iPad sales have slumped
The K-12 education market could be an opportunity for these companies, as it would get young people accustomed to whatever operating system they use in the classroom.
Over the years, Apple has tried to market its iPad as a replacement for laptops. However, smartphones are now equipped with many functions and have caused a decline in not only iPad shipments but also the PC market. As the graph above shows, the company's iPad shipments have languished. However, Tuesday's announcements aren't likely to have an impact on Apple's business, as the iPad remains a costly option for schools.