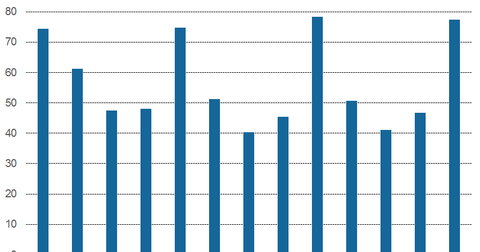 Could Apple's iPhone Shipments Increase in Fiscal 2Q18?
By Adam Rogers

Apr. 27 2018, Updated 3:25 p.m. ET
Apple estimated to sell 18 million iPhone X units in fiscal 2Q18
According to KGI Securities analyst Ming-Chi Kuo, Apple (AAPL) could discontinue shipments of the first-generation iPhone X in mid-2018, driven by lower approval ratings. Kuo stated that the second-generation iPhone X would be launched later this year. Kuo added that if Apple reduces the price for its first-generation iPhone X, it could lead to lower sales in the lower product segment.
Kuo has estimated total iPhone X sales to reach 18.0 million units in fiscal 2Q18 while in fiscal 3Q18, Apple is estimated to sell 13.0 million devices. This is significantly lower than market estimates of 20.0 million–30.0 million units in 2Q18 and 15.0 million–20.0 million units in 3Q18. 
Kuo also said, "We expect iPhone X will go to end of life (EOL) around mid-2018 and that total life cycle shipments will be around 62 million units, lower than our previous forecast of 80 million units."
Kuo believes that the iPhone X is still incompatible with several Chinese applications, which could result in lower sales in a major market for Apple. Kuo estimates that overall iPhone shipments might still rise 0.5% YoY (year-over-year) in 2018.
Article continues below advertisement
iPhone shipments might rise 6% this year
Apple's iPhone business is Apple's primary segment and accounts for more than 55.0% of total revenues. So, any growth in this business is expected to positively impact overall revenues as well. 
Earlier this year, analyst Robert Chira estimated that Apple's iPhone shipments could rise 6.0% YoY in 2018 and 4.0% YoY in 2019. Chira believes that the iPhone X's high-end features such as face identification technology and an OLED (organic light-emitting diode) display could attract users in the next few quarters.