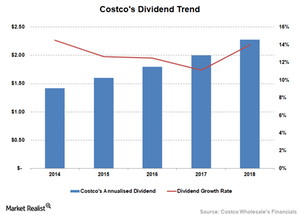 Costco Boosts Shareholder Value, Hikes Dividend
By Amit Singh

Apr. 25 2018, Updated 3:25 p.m. ET
Quarterly dividend raised 14%
Costco (COST) recently announced a 14.0% increase in its quarterly dividend, to $0.57 from $0.50, resulting in an annualized dividend of $2.28. As shown in the graph below, Costco has been increasing its dividend at a healthy rate over the past several years.
Wells Fargo analyst Edward Kell recently upgraded Costco to "outperform," stating that the company could boost shareholder returns in 2018 through special dividends. Last year, Costco paid a special dividend of $7. This year, the analyst expects Costco to announce a special dividend due to the lower tax rate.
In February 2018, Walmart raised its annual dividend to $2.08 per share, by just by 2%. Whereas this raise seems minimal, Walmart (WMT) is a dividend aristocrat and has consistently increased its dividend for 45 years.
Article continues below advertisement
Dividend hikes reflect strong free cash flow generation capabilities. However, mass merchandisers are investing significantly in growth initiatives to solidify their competitive positioning against the growing threat from Amazon (AMZN). Investments in growth measures such as value pricing and digital fulfillment are affecting the profitability of these companies, and in turn, their free cash flow.
Dividend yields
Costco's dividend yield lags behind Walmart's and Target's (TGT). Costco's dividend yield was 1.0% as of April 24, while Target's and Walmart's yields were 3.5% and 2.4%, respectively.
However, Costco has continued to generate higher sales growth than Walmart and Target. Its earnings growth has also been significantly higher, which could help the company boost shareholder value through the announcement of a special dividend.