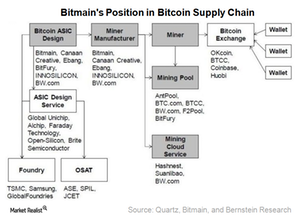 China's Bitmain to Compete with AMD, NVIDIA in the Ethereum Space
By Puja Tayal

Updated
Bitmain announces Ethereum ASIC
In the previous article, we learned that Advanced Micro Devices (AMD) stock didn't recover from the recent stock market sell-off because Susquehanna analyst Christopher Rolland had downgraded it. AMD's stock price fell largely because investors had overestimated its sales potential from the cryptocurrency boom.
One example of this was visible on April 3, 2018, when Bitmain, a Chinese (MCHI) specialized ASIC (application-specific integrated circuit) manufacturer, announced its new Antminer E3 ASIC designed for Ethereum mining. This announcement sent AMD stock down 5% in just one day, as AMD's GPUs (graphics processing unit) are preferred by Ethereum miners for mining purposes.
Article continues below advertisement
On social media, Bitmain tweeted that Antminer E3 would be available on the market in July 2018 and would be priced at $800. The Chinese company would manufacture these ASICs for international markets and first ship Antminer E3 chips in July priced at $800 per chip. The company has started taking orders for the chips and has limited orders to one chip per customer.
Bitmain is a leader in the Bitcoin market. Its specialized ASIC chips are used by most Bitcoin miners because they're more efficient than AMD's and NVIDIA's (NVDA) GPUs at mining Bitcoin. Now that Bitmain has announced its entry into the Ethereum market, which at this time prefers AMD's GPUs, analysts fear that the company will steal AMD's position there.
Bitmain raises Wall Street's concerns 
In a note to clients reported by Bloomberg, RBC Capital Markets analyst Mitch Steves stated that one $800 Antminer E3 ASIC would deliver a performance similar to that of five AMD or NVDA GPUs, which cost ~$1,600 for the same power consumption.
According to analysts, Bitmain earns most of its revenue by selling its ASIC-powered mining rigs. Bernstein noted that Bitmain's 2017 profits came in at the same level as NVIDIA's. All this has raised concerns among analysts that Bitmain will dominate the Ethereum mining market.
Even before Bitmain announced its Antminer E3 ASIC, Rolland lowered his price targets on AMD and NVIDIA over concerns of rising competition from the Chinese manufacturer. We'll look into this in the next part of the series.