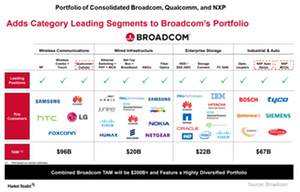 CFIUS Finds Problems with the Broadcom–Qualcomm Deal
By Puja Tayal

Updated
Qualcomm and Broadcom 
While Qualcomm (QCOM) was fending off a hostile takeover by Broadcom (AVGO), the technology industry supported Qualcomm in its efforts. Rival Intel (INTC) offered to buy Broadcom if the latter succeeded in acquiring Qualcomm.
This opposition came due to the size and market share of the two companies. Qualcomm is a leader in the smartphone chip market and licenses its modem technology to almost all phone OEMs (original equipment manufacturers). 
Article continues below advertisement
On the other hand, Broadcom is a leader in the communications semiconductor market with a broad portfolio of data storage gear, set-top boxes, and networking hardware. The combined company would become the third-largest chip company in the world and would have nearly all communications chip technology.
As a result, Qualcomm was concerned that the deal might become stalled under regulatory scrutiny. However, Broadcom was confident that it could move the deal through these regulatory hurdles and offered to pay a termination fee of $8.0 billion if it failed to do so. 
CFIUS steps in
On March 4, 2018, the Committee on Foreign Investment in the United States (or CFIUS) made a surprise entry and launched an accelerated review of the deal two days before the Qualcomm shareholders were scheduled to vote on Broadcom-nominated directors. 
CFIUS is a government agency that reviews foreign investments for any national security concerns. It generally conducts a 30-day preliminary assessment before starting an official review. However, in the Broadcom-Qualcomm case, it skipped this step and jumped to the review.
On March 5, 2018, the government agency wrote a letter expressing its concerns with the Broadcom-Qualcomm deal, putting the deal in jeopardy, according to CNBC.
CFIUS's concerns with Broadcom–Qualcomm deal
In its letter, CFIUS stated that Broadcom's cautious R&D spending might lead to cuts in Qualcomm's R&D spending. Qualcomm's R&D spending is vital for it to maintain a technology lead in 5G and influence standard setting.
If Qualcomm loses its technology advantage, it would no longer be able to influence technology standards, which could significantly impact US national security. We'll see how Qualcomm's technology lead is correlated with national security in the next part of this series.