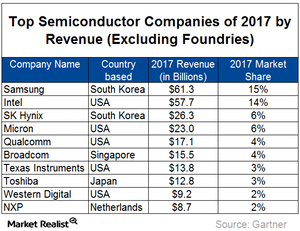 Broadcom's Rationale for Changing Its Domicile to the US
By Puja Tayal

Apr. 10 2018, Updated 10:30 a.m. ET
Broadcom learns from Qualcomm's deal 
Earlier in this series, we saw that the Committee on Foreign Investment in the United States (or CFIUS) and President Trump blocked Broadcom's (AVGO) takeover of Qualcomm (QCOM) even before the deal was formally announced or voted on. This was an unusual move by the CFIUS to protect the 5G technology of US-based Qualcomm.
When CFIUS announced its investigation into the deal, Broadcom accelerated its plans to redomicile to the US. It took this action because if it completed the re-domiciliation process before the investigation was over, the deal would have been out of CFIUS's jurisdiction. However, the agency could argue that the deal continues to be under its purview as the investigation started when Broadcom was a Singapore-based (EWS) company.
Article continues below advertisement
Had Broadcom approached Qualcomm after becoming a US company, these events wouldn't have happened. Learning from this deal, Broadcom has decided to continue its re-domiciliation in the US. The company stated that it has received shareholder approval to redomicile to the US and is waiting for the approval from the High Court of the Republic of Singapore. 
Broadcom returns to the US
Even if Broadcom is not domiciled in the US, it is an American company in many aspects. Broadcom was originally founded in California but moved to Singapore in 2016 after its acquisition by Avago Technologies. 
Even after the acquisition, Broadcom has maintained its US operations. Broadcom's CEO, Hock Tan, has been a US citizen for nearly 30 years and has worked for several major companies.
Article continues below advertisement
Behind Broadcom's re-domiciliation to the US 
Now that the Qualcomm deal has been blocked, this brings us to the question of why Broadcom is still relocating to the US. Multiple surveys have shown that Singapore is a more business-friendly country than the US. 
The US, especially Silicon Valley, is considered the center of the technology industry. Secondly, becoming a US company would make mergers and acquisitions of US-based companies easier for Broadcom, as it wouldn't fall under the purview of CFIUS, which reviews deals that involves foreign investments.
Broadcom has withdrawn its Qualcomm offer for now and is currently relocating to the US. Many analysts believe that Broadcom may discover a way to work around the presidential executive order and once again attempt to acquire Qualcomm. Some analysts believe that Broadcom would no longer pursue Qualcomm and may pursue smaller companies.
Next, we'll look at potential acquisition targets for Broadcom.