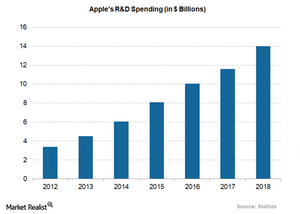 Behind Apple's Strategy of Making Its Own Chips
By Sophia Nicholson

Apr. 13 2018, Updated 4:20 p.m. ET
Apple to make its own chips
Recently, Bloomberg stated in a report that Apple (AAPL) is planning to replace Intel (INTC) chips for its Mac computers and use its own chips. The iPhone maker is planning to begin using its chips in laptops such as the 12-inch MacBook by 2020.
Article continues below advertisement
Why this transition?
Currently, Apple designs its main processors using technology from Arm Holdings for its iPhones, iPads, Apple Watches, and Apple TVs. Only Apple's Mac computers rely on Intel processors. By using its own chips, Apple would be able to integrate iPhone and iPad custom chips with its Mac computers' operating system called macOS. Apple says it will potentially give better battery life for its Macs.
The shift would also allow Apple to bring new features to all its products more quickly since all its devices would have Apple processors. The initiative would make Apple the only major PC (personal computer) maker to use its own processors.
For the past several years, Apple has started integrating user-facing features. It recently began sharing lower-level functions to combine its hardware and software platforms.
Apple's rising R&D spending
Apple has increased its R&D (research and development) operations on new hires and initiatives to keep up the pace in the rapidly growing technology market. In 2016, Apple ranked ninth among the world's top spenders in R&D, leaving behind Amazon (AMZN), Samsung, Alphabet (GOOGL), Intel, and Microsoft (MSFT). In the first quarter of fiscal 2018 (ended December 2017), Apple's R&D spending exceeded the $3 billion mark for the first time. According to sources, Apple's R&D spending will reach $14 billion in fiscal 2018 compared to $3.3 billion in 2012.