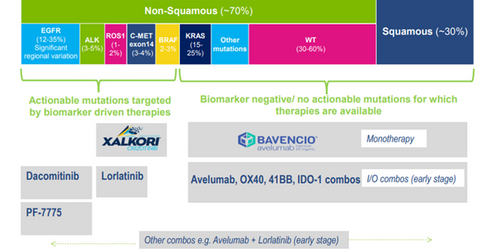 Bavencio: Still Promising Opportunity for Pfizer in 2018
By Margaret Patrick

Updated
Bavencio's growth trends
Pfizer (PFE) and Merck KGaA have already received approval from the FDA for Bavencio (avelumab) in the niche indications of metastatic Merkel cell carcinoma and second-line plus locally advanced or metastatic urothelial carcinoma. While the company has not proved to be a key player in the area of monotherapy immuno-oncology drugs, it's focused on positioning itself as a prominent player in the area of immuno-oncology combination regimens. The company is currently studying Bavencio in approximately 30 clinical trials comprising ~7,000 enrollees across 15 tumor types.
The above diagram highlights various mechanisms explored or currently being evaluated by Pfizer in the lung cancer indication.
Article continues below advertisement
Bavencio research programs
In February 2018, Pfizer announced that its Phase 3 JAVELIN Lung 200 trial comparing Bavencio with docetaxel as a second-line treatment option in patients suffering with unresectable, recurrent, or metastatic non-small cell lung cancer (or NSCLC) did not meet its endpoint of overall survival (or OS). The company has attributed this failure to a higher-than-anticipated crossover rate in the trial. Despite that, Pfizer has noted improvements in OS in patients with moderate to high levels of PD-L1+ expression.
Pfizer currently has five ongoing pivotal studies evaluating Bavencio-based combinations. The results are expected to be released by the end of 2019.
In December 2017, Pfizer secured breakthrough therapy designation for its Bavencio-Inlyta combination therapy as a first-line treatment option in the advanced renal cell carcinoma indication. Bristol-Myers Squibb (BMY) and Roche Holdings (RHHBY) are also actively involved in advancing their immunotherapy-based combination regimens in the renal cancer indication. If Bavencio-Inlyta is approved as a treatment option for renal cancer, the company will be competing with existing renal cancer players Roche Holdings and Novartis (NVS).
Pfizer is also studying the triplet combination of Bavencio, 4-1BB agent, and OX40 monoclonal antibody in solid tumor indications in 2018.
Bavencio is also being studied in combination with chemotherapy agents in second-line and third-line ovarian cancer indications and as a first-line maintenance therapy after chemotherapy in gastric cancer and bladder cancer indications.
In the next part of this series, we'll look at growth prospects for Eliquis and Xeljanz.