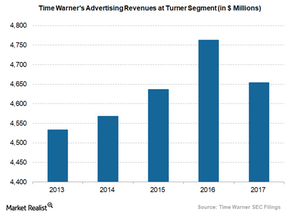 AT&T and Time Warner: Response to Department of Justice Concerns
By Sophia Nicholson

Apr. 6 2018, Updated 7:32 a.m. ET
AT&T–Time Warner merger
AT&T's (T) planned merger with Time Warner (TWX) is in a trial after the DoJ (Department of Justice) filed a lawsuit to stop the deal. The antitrust trial began on March 19, 2018, and will continue for eight weeks. According to the SEC (Securities and Exchange Commission) filing, AT&T's proposed $85.4 billion merger deal with media and entertainment giant Time Warner is expected to close by June 21, 2018.
Article continues below advertisement
Concerns over the merger
The US government is concerned that the planned AT&T–Time Warner merger would diminish competition and give too much control to AT&T. According to the DoJ, the merger would lead to higher prices for consumers. President Donald Trump has never been in favor of the deal, allegedly because of his personal clashes with Time Warner's CNN since the US presidential elections in 2016.
The DoJ alleges that AT&T–Time Warner, after the merger, could force customers to switch to AT&T's own TV service, DirecTV, or charge higher programming fees to its rivals for distributing content.
Reportedly, the DoJ is also concerned that the deal would increase costs for consumers by $436 million per year. AT&T, however, explained that the total cost of $436 million would mean that the cost of pay-TV would increase by just $0.45 per month, a nominal increase.
US regulators have become tough lately on approving mergers. Reportedly, Rupert Murdoch, the owner of 21st Century Fox (FOXA), has entered into a deal with Walt Disney (DIS) to sell certain assets to avoid regulatory issues. But the Fox-Disney deal has become more complicated with the surprise entry of Comcast (CMCSA) bidding for Sky, one of Fox's assets.