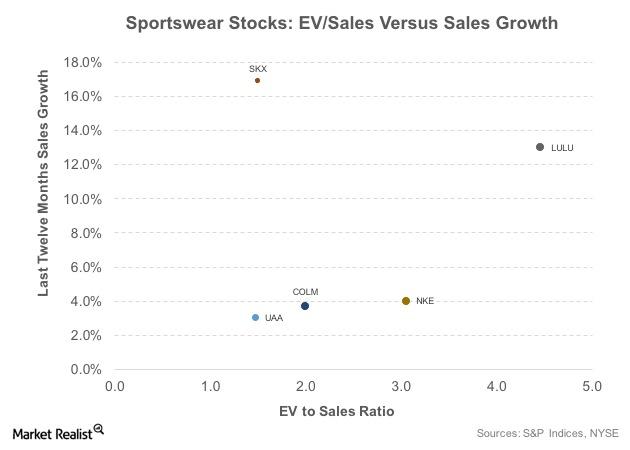 Assessing the Valuations of Sportswear Stocks
By Sonya Bells

Dec. 4 2020, Updated 10:53 a.m. ET
EV-to-sales valuations of sportswear stocks
In this part of the series, we'll discuss another key valuation metric—the enterprise-value-to-sales multiple. A higher EV-to-sales multiple indicates that a company is overvalued. To gauge whether these companies are correctly valued, we'll also look at their respective sales growth.
Article continues below advertisement
Sales ratios
Let's begin with industry leader Nike (NKE). Nike's balance sheet size is larger than the combined balance sheets of Lululemon Athletica (LULU), Under Armour (UAA), Columbia Sportswear (COLM), and Skechers (SKX). The company has an enterprise value (or EV) of $110.0 billion, while the other companies combined have EVs of $30.0 billion.
Looking at their enterprise-value-to-last-12-months (or EV-to-LTM) sales ratios, Nike is valued at 3.1x. Its total sales grew ~4.0% over the last 12 months, compared to its average sales growth of 10.0% between fiscal 2012 and fiscal 2016. 
Several factors hit Nike hard last year, including changing customer preferences toward retro styles instead of performance-based shoes. Increasing competition from German rivals Adidas (ADDYY) and Puma in North America also impacted Nike. However, Nike expects a revival in the North America market.
Moving to Lululemon Athletica (LULU), the yoga-inspired athletic apparel maker commands an EV-to-sales multiple of ~4.5x, which is the highest in the peer group. However, the company delivered strong sales growth of 13.0% over the last year. Its sales comps soared 12.0% during its most recent quarter, fueled by its strong e-commerce business.
Among its peers in this survey, Skechers (SKX) has the lowest EV-to-sales ratio of 1.5x and the best LTM sales growth of 17.0%. It has delivered strong growth across all channels and geographies. Its international wholesale and domestic wholesale businesses expanded 40.0% YoY (year-over-year) and 11.6% YoY, respectively, in the last reported quarter. Its global retail business grew 25.8% YoY.
Under Armour (UAA) and Columbia Sportswear (COLM) sit somewhere in between. While UAA has a similar EV-to-sales multiple to that of Skechers, its LTM top-line growth was the lowest among the group at 3.0%. 
Columbia Sportswear has similar LTM sales growth numbers to its peers in our survey. It recorded 3.7% growth in LTM sales, but it's priced above Skechers and Under Armour and below Lululemon and Nike.