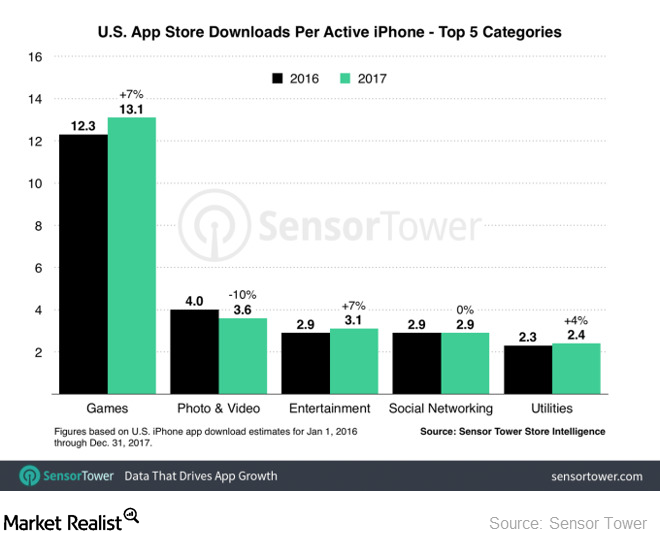 App Store Titles Declined for the 1st Time in 2017
App Store apps fall to 2.1 million
According to Appfigures, an application reporting platform, Apple's (AAPL) App Store apps declined from 2.2 million at the start of 2017 to 2.1 million by the end of last year. Comparatively, Google's (GOOG)(GOOGL) Play Store assessment revealed that Android applications rose 30.0% YoY to 3.6 million.
This drop in titles was attributed to Apple's strict review guidelines, as the firm removed those apps that it termed "problematic" by the end of 2016.
Article continues below advertisement
US customers installed 45 new iPhone apps last year
In the United States, customers installed 45 new iPhone applications on an average in 2017, indicating a rise of 10.0% YoY (year-over-year). This meant that Services revenues from in-app purchases and subscriptions rose 23.0% year-over-year. The average revenue for an App Store user was $58.00 in 2017 compared to $38.00 for the Google Play Store.
The growth in application revenues was driven by games and dating services. Games accounted for 62.0% of total revenues or $36.00 per user. Apple is also looking at new avenues to grow app store revenues and is targeting the video entertainment space.
In comparison, video entertainment services such as Netflix (NFLX), Hulu, and HBO NOW saw revenues rise 57.0% YoY to $4.40 per user. Social media applications such as YouTube Gaming, Periscope, and LinkedIn (MSFT) saw a rise of 38.0% YoY to $3.60 per user.